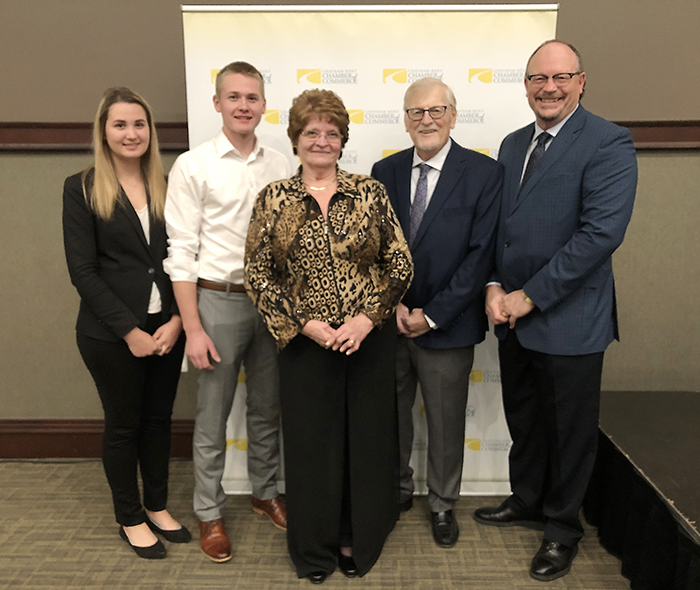 By Pam Wright
Local Journalism Initiative Reporter
Mitchell and Morgan Anderson aren't certain what the future holds, but they know they will both be choosing a career in agriculture.
The siblings, who are both studying the subject at the University of Guelph, said they were inspired by positive role models they had growing up on a 200-acre farm near Ridgetown.
It all began with them riding in the fields with their grandpa, helping grandma in the garden and playing with toy tractors their parents' brought home.
Their ongoing passion for all things agriculture was recognized Nov. 23 at the Chatham-Kent Chamber of Commerce Rural Urban Awards.
Held at the John D. Bradley Centre in Chatham, the event saw five people receive awards, one posthumously.
Mitchell, 18, was named Youth Agriculturist of the Year for 2022, while his older sister Morgan, 20, received the same award in 2021. However, she was unable to receive the award last year, as the ceremonies weren't held because of pandemic restrictions.
The sister and brother have always been closely associated with the agriculture business. Their parents work in the sector, they both belonged to 4-H and they each help on their uncle's dairy farm.
Both recently attended the Royal Winter Fair in Toronto, where they showed cattle and where Mitchell also groomed cattle.
Morgan, now in her third year at Guelph, said attending university with others interested in agriculture has been a great experience.
"You find your people there," she added. "It's a lot of fun to be part of a group where everyone has the same passion."
Three other awards were also presented. Wallaceburg's Dennis DeBot was named Agriculture Innovator of the Year for building a state-of-the-art grain-drying system that has made his 6,000-plus-acre farm 70 per cent more efficient.
Another Wallaceburg area resident was recognized posthumously. Crop fertility expert Danny Ellis, who passed away in March, was named Agriculturist of the Year. The award was accepted by his fiancée Sue Boyle.
The 2022 Friend of Agriculture Award went to Ken McEwan. A professor at the University of Guelph Ridgetown Campus and formerly the campus director, McEwan has taught thousands of students over the course of his career. An economist by trade, McEwan said it's important for urban dwellers to support farmers and agriculture.
Kent Agricultural Hall of Fame
The past week also saw the induction of four well-known names into the Kent Agricultural Hall of Fame. The four, who have worked tirelessly as innovators and promoters of agriculture, were recognized at a ceremony at Hidden Hills Golf Club Nov.22.
Chatham-Kent's famed Kim Cooper, the "AgGuy" columnist who worked for more than 40 years as a tireless promoter of Chatham-Kent agriculture, was welcomed to the hall of fame. Cooper worked an advisor to the municipality for many years and helped develop the "We Grow for the World" campaign. A resident of Wheatley, Cooper is also an ordained minister,
Former Raleigh Township Reeve George Denys was recognized by the hall of fame for his many roles in agriculture, including helping to create crop insurance for farmers. Always advocating for agriculture, the vegetable farmer was instrumental in establishing a labour force for vegetable and fruit growers. He was also an early supporter of the Corn Producer's Association. A believer in education, Denys helped develop Ridgetown Farm Week, where farmers come together to learn.
Dresden-area innovator Dennis Jackson was also inducted. He's the founder of Jackson Seed Service and a pioneer in the field of food-grade soybeans, shipping to 10 countries around the world. Jackson is a supporter of many community projects and a humorous promoter of local agriculture through his "Soybean Man" YouTube channel.
The name of the late Dr. Ron Pitblado, who passed away in 2009, was also added to the hall of fame. Pitblado was known as a pest management specialist who shared his knowledge with thousands of students at the University of Guelph Ridgetown campus. He was known for developing systems for producing tomatoes and sugar beets.