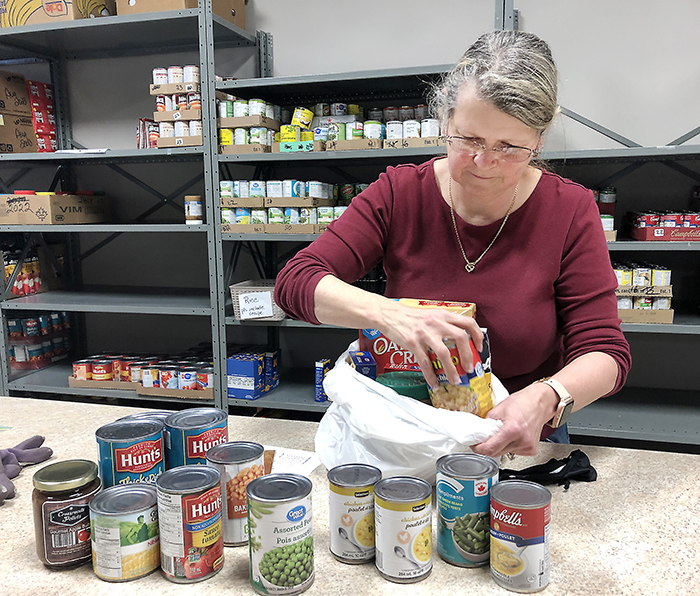 By Pam Wright
Local Journalism Initiative Reporter
Unprecedented demand.
That's what local food banks are faced with heading into the dark days of winter.
According to Outreach for Hunger executive director Brenda LeClair, requests for assistance are the highest she's witnessed in her more than three decades with the agency.
Outreach is now serving between 500 to 700 families per month, LeClair said, noting that prior to 2022, 400 families in a month would be considered busy.
"We are really climbing in numbers," LeClair said. "The situation is the worst that I have seen it in 33 years."
According to Statistics Canada, food prices have climbed 11.4 per cent in the past year, making for the fastest annual increase since 1981.
LeClair said that many of the food bank's clients are unsheltered, making it difficult for them to access a meal. To help with that population, Outreach hands out bagged lunches every week day.
Runaway inflation and a chronic lack of affordable housing are the main culprits behind the spike, she added, noting a dollar doesn't stretch as far at the grocery store.
"It has definitely affected our buying power," LeClair added, with simple staples such as 99-cent margarine now costing $3.99.
"We are switching products and really watching the flyers," she added. "We are being really selective in our purchases and doing our best to keep the money we spend local."
Responding to the need is a community effort, she said, with food drives such as UCC's recent Scare Away Hunger being part of the solution.
"We're still sorting the food," LeClair said.
It's a similar story at the Salvation Army which operates food banks in Chatham, Wallaceburg, Blenheim and Ridgetown.
Salvation Army community and family services manager Nicole Shaw said there's been a definite uptick due to inflation.
"Because of rising food costs, our budget has to go higher," Shaw explained, adding the organization does do food drives but sometimes that's not enough and the Salvation Army has to buy food.
"We want to make sure we don't have to turn anyone away," she said.
Shaw said there's been a changing trend in clientele, with working people who can't make ends meet accessing the service.
"They need to use the food bank because there's not enough left at the end of the month after they pay their bills," she said.
Those wishing to donate can access information online or call the Salvation Army at 519-354-1430. Outreach for Hunger can be reached at 519-351-8381.
While all donations are welcome, both agencies are requesting protein foods, as well as personal care items.