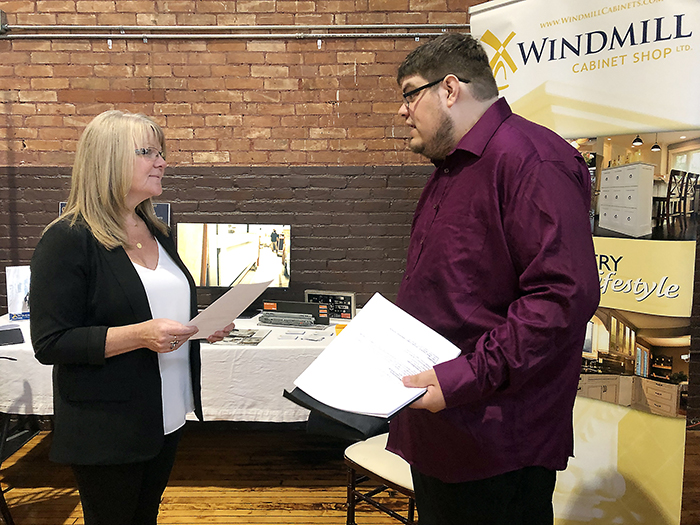 By Pam Wright
Local Journalism Initiative Reporter
If they were available, Lauree Prangley-Roubos said she could hire five people right on the spot.
"We're always looking for workers," said the administrator of Chatham's Windmill Cabinet Shop. "We're willing to teach people and our training is extremely thorough.
"We're looking for people with honesty, integrity and willingness."
Last week, Prangley-Roubos was among those representing 48 Chatham-Kent employers currently on the hunt for workers. Held at the Chatham Armoury, the community career fair was put on by Chatham-Kent Economic Development and the Goodwill Career Centre.
It's the first job fair to be held in Chatham in three years.
When it comes to finding workers, the struggle is real and it's an employee's market. The most recent data available dating back to August put the region's unemployment rate at 5.1 per cent, however, there are many positions available with decent starting wages.
Prangley-Roubos said Windmill Cabinet Shop, established in 1976, currently has 71 employees with three separate buildings. Some of the positions, such as that of a designer, require post-secondary training, but the manufacturing side has openings for new employees starting at $18 an hour.
The job also includes benefits, Prangley-Roubos said, and employees who show initiative are listened to and rewarded.
"This is a good place to work," she added. "We're like a family at Windmill."
The career fair saw a steady stream of job seekers of all ages. Harley O'Hara was one those eager to find work.
"I want to get my foot in the door somewhere," the Chatham resident said. "I want to show what I can do for an employer."
Shari McCutcheon and Evona Dorozynska, who were helping man the booth for the Municipality of Chatham-Kent, said there are plenty of jobs available.
The health-care sector is hot.
"We are looking for anyone in health care," McCutcheon said, adding RNs, RPNs and PSWs are in high demand.
Dorozynska, who works as a talent and acquisition officer for Chatham-Kent, said the time was ripe for a career fair.
"It's a really good idea and great for the community," she added.
According to economic development officer Rosemarie Montgomery, the event was a big success with 538 jobseekers attending.
"We are happy with the results," Montgomery said. "It exceeded our expectations."