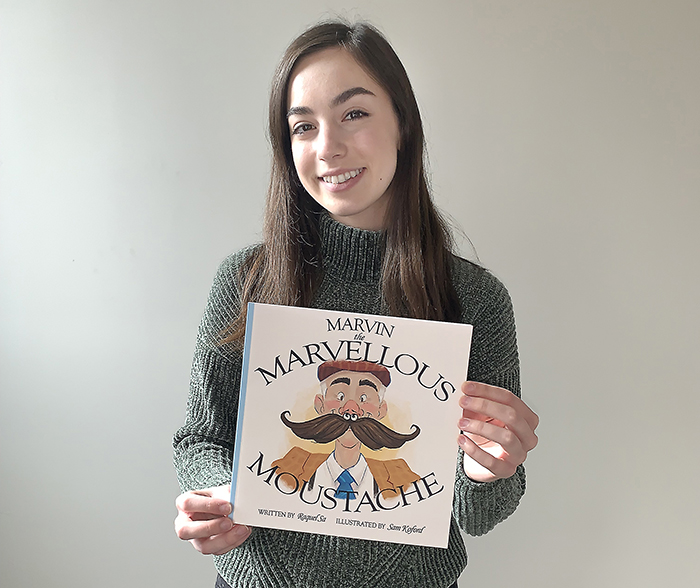 Local author Raquel Sa credits her nieces as being a big inspiration in her completing two books.
It helps that her nieces are kids and Sa is writing children's books.
The imagination is the limit in her writing, as the first book involved a gazelle going to space, and her most recent offering is of a moustache with a life of its own.
Marvin the Marvellous Moustache just released on Amazon last month.
Sa, 23, a former co-op student with The Chatham Voice, is a graduate of Wilfred Laurier University in Communications. Her day job sees her working in marketing and customer service with Enviroshake.
While at school in Waterloo, she spent two years living with her brother Claudio and his wife Caylyn. Their children Violet and Clara had an impact on Sa.
"I finished university in April of last year. And in May, while finding a job and such, I thought it would be a perfect time for me to try writing and publishing my own book," she said. "It was kind of inspired by one of my nieces. She came up with the main character."
That would be Spaghetti Gazelle, who uses her imagination to go to space with her friend Ziti Zebra.
Sa found an illustrator, who was a friend of a friend, and they collaborated to complete the book. It was published this February.
Her niece Violet also got Sa's juices going for her second book.
"My nieces are a pretty big inspiration. The oldest is seven. She comes up with funny characters," she said. "She had drawn pictures of people with funny moustaches on them. I thought it would be humorous to come up with a story about a moustache that had a life of its own."
Enter Marvin the Marvellous.
This time around, the creative process went much more quickly. She began working on it in March and it was complete and available for purchase by October.
Although she's a communications graduate and working in marketing, Sa said the creative writing bug continues to nibble at her. She's happy to have the outlet.
Her goal is now 10 books in 10 years.
"For now, I definitely want to stick to children's books. They're just so fun, even marketing them," Sa says.
Then again, with her little relatives as influencers, perhaps her writing will age as they do.
The Chatham-Kent Library has copies of Spaghetti Gazelle on file, and Sa said they will soon have Marvin on hand too.
Sa will be holding a meet-the-author event at Charlie's Cafe Nov. 26 from 11 a.m. to 1 p.m. She plans on having moustache colouring pages for kids.
To purchase a copy of her book, visit https://www.amazon.ca/Marvin-Marvellous-Moustache-Raquel-Sa/dp/B0BHKGL3Y7/ref=sr_1_1?qid=1666744036&refinements=p_27%3ARaquel+Sa&s=books&sr=1-1&text=Raquel+Sa