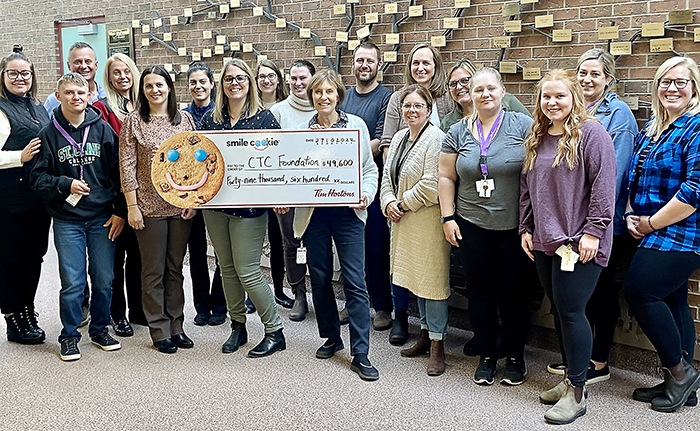 Chatham-Kent residents love cookies, especially when they are connected to fundraising for a cause.
From Sept. 19-25, the Tim Hortons Smile Cookie Campaign supported charities in communities across the country, including the Children's Treatment Centre Foundation of Chatham-Kent (CTCCK)– one of 550 Canadian charities, hospitals and community programs supported through the annual campaign.
During that week, local Tim Hortons owners – the Pritchard family and Mike and Paula Grail – donated local proceeds from every Smile Cookie sale towards the CTCCK Foundation. Recently, they presented the CTCCK with a donation in the amount of $49,600.
Mike Genge, president of the CTCCK Foundation, said sales jumped by 40 per cent this year. He attributes the uptick largely due to the ability to place volunteer bakers in three of the Tim Horton's locations to take the burden off Tim's bakers and keep the cookies flowing.
Tim Hortons invited more than 40 volunteers to assist with baking and decorating Smile Cookies at Tim Horton's locations in Chatham, Wallaceburg and Dresden.
"We had a ton of volunteers from the Children's Treatment Centre, the staff. They were fantastic," he said. "We had people from the community too. They wanted to come and help out for a few hours."
From 2 p.m. to 5 p.m., that help produced more than 8,000 cookies, ensuring supply met with demand.
"The staff at all (Tim's) locations were absolutely incredible. They were able to help out and we were able to stay out of their way," Genge said.
He added that he'd love to see the volunteer effort expand for 2023 to include more of the Tim Hortons locations. Interest has already begun.
"We've already had calls from workplaces where they want to be involved to send out volunteers," he said. "Next year, guaranteed, we'll need 150 volunteers. I think we can raise even more, perhaps $75,000.
The program has come a long way. Genge said when he first got involved six years ago, the Smile Cookie campaign raised about $15,000, and it is now more than triple that amount.
Chatham-Kent collectively obviously has quite the sweet tooth when it comes to helping a good cause.
Funds raised from the Smile Cookie Campaign will go towards providing programing and therapy for children that attend the Centre.