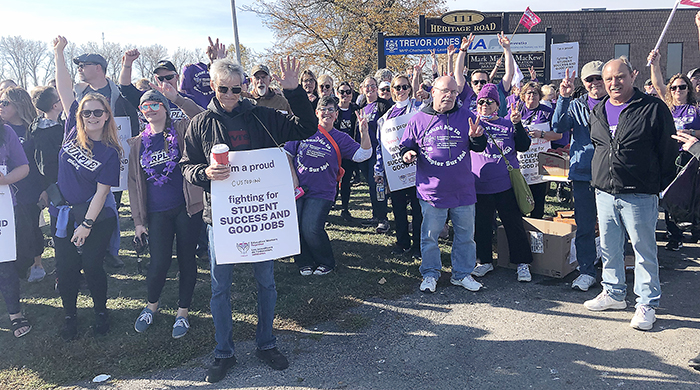 It's that simple. Use reason.
In the case of the province versus educational support staff, neither side can say they were reasonable last week.
For starters, the salary level for the folks who walked off the job on Friday for their "illegal" strike is at this time…unreasonable. Just as the salaries for our teachers are unreasonably high, the support staff are underpaid.
The McGuinty and Wynne governments had set the teacher salary bar too high, and didn't do enough for the 55,000 support staff, who make on average under $40,000 a year.
That's decent money here in Chatham-Kent if you are in a two-income household, but in larger urban centres with higher costs of living, it's a pittance.
Enter CUPE, the Canadian Union of Public Employees, who originally sought a pay raise of 11.7 per cent.
That massive hike is also unreasonable. So too was their eventual counter of about six per cent. Ability to pay comes down to the taxpayer, and the pressure is on all our wallets these days.
Facing the initial bargaining point of 11.7 per cent, the Ford government, led by Education Minister Stephen Lecce, dug in its collective heels.
Its counter offers were meager at best, two per cent.
And then the Ford government behaved like a bully, invoking that notwithstanding clause at the 11th hour to make the strike illegal.
Yes, our students have been through enough disruptions due to the COVID-19 pandemic, but to rip the rights of these workers out from under them in that manner was in poor form.
Even the prime minister waded into the fray. Justin Trudeau called the Ford government's legislation an "attack on one of the most basic rights available, that of collective bargaining," according to a CBC report.
How we wound up with the massive walkout Friday and disruption of school for our children is the issue in question.
Cooler heads should have prevailed sooner. It was a failure on all sides, but especially that of the Ford government.
The fact both sides delivered their message, then collectively backed down to return to the bargaining table was heartening. But two more lost school days and millions of frustrated parents seems lost on the government and the union.