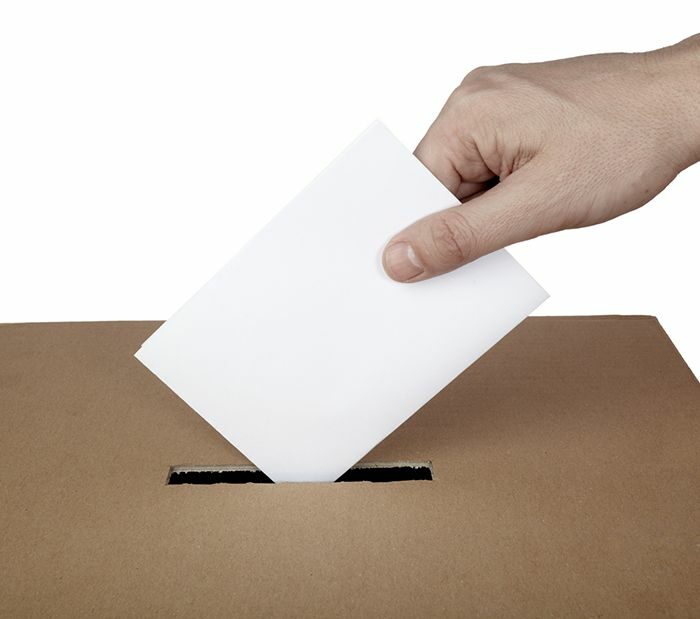 By Pam Wright
Local Journalism Initiative Reporter
Voter turnout in Chatham-Kent hit an all-time low last week with only 30.5 per cent of eligible voters bothering to head to the polls.
It's the worst showing in a municipal election since Chatham-Kent amalgamated in 1998 some 24 years ago.
According to a media release from municipal clerk Judy Smith, a total of 24,546 ballots were cast in an election that cost taxpayers somewhere in the neighbourhood of $382,792 – similar to what was spent in 2018.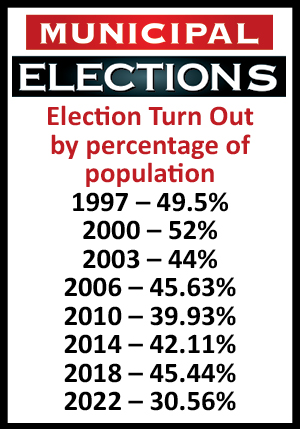 This year's turnout marked a 15-per-cent drop from the 2018 election, which saw in excess of 10,000 more votes cast all told despite Chatham-Kent having a smaller population at the time.
Incumbent mayor Darrin Canniff, who won his seat handily over opponents William Pickard and Andy Fisher, said that while he expected voter turnout to be down, he didn't expect to see such a significant drop. 
"One third less people turned out," Canniff said, noting that he received more than 37,000 votes on his 2018 run. "I can't speak as to why…I would love to see more people turning out voting."
Nonetheless, he thinks the future is bright.
"The people that are voted in, we're going to work together to make Chatham-Kent an absolutely amazing place to live," Canniff told supporters at his post-victory party.
Low voter turnout was not isolated to Chatham-Kent on Oct. 24, as reports from the Association of Municipalities of Ontario pegged the average across the province at about 36 per cent.
London's numbers were about 25 per cent, according to reports, while Windsor sat at 31.57 per cent and Sarnia had a high bar at 40.41 per cent.
Incumbent Chatham Coun. Karen Kirkwood-Whyte, who lost her seat representing Ward 6, said she headed to the golf course the day after the election and had a "great game" while accepting the loss.
"All the way through this process, I believe that if it isn't in God's plan for me, He's got something else planned," she added.
Kirkwood-Whyte also thinks low voter turnout "could have very easily" affected the results and said more must be done to engage the public in the election process.
However, she has plenty to do, saying she was "inundated" with e-mails, phone calls and visits the morning after, with many calling her with opportunities to volunteer.
"There's lots of work to do in the community," Kirkwood-Whyte added, noting she will continue the quest to bring more affordable housing to Chatham-Kent.
A pioneer for women locally, Kirkwood-Whyte was the first female to serve on Tilbury council in the early 1980s and the first local female Rotarian. But she said she won't be running for council again.
"Shift happens," she said, joking that she hopes to be "all used up" by the end of her life.
Former councillor and school board trustee Derek Robertson, who lost his bid to return to council, is another who thinks low voter turnout negatively impacted the election.
"The voter turnout killed me," Robertson acknowledged. "There's no question. Without a good, strong mayor's race, people just didn't show up. I'm sure the place where I traditionally polled well (in 2010 and 2014) didn't come out to vote."
Robertson said he hoped to bring questioning and transparency back to council, to avert situations like the establishment of the emergency homelessness shelter, noting it was done without public consultation.
"Administration told them (council) there was an emergency and they acted without any public consent," Robertson stressed. "Your urgency can't become my emergency.
"They don't abide by that principle." 
A ceremony will be held for Chatham-Kent's new council at the Capitol Theatre on Nov. 15 and council's first official meeting is on Nov. 21. Barring any COVID-19 related problems, council will gather at the Chatham-Kent Civic Centre face-to-face for the first time in more than two years.
However, a virtual attendance option will remain for councillors dealing with issues such as bad weather or illness.