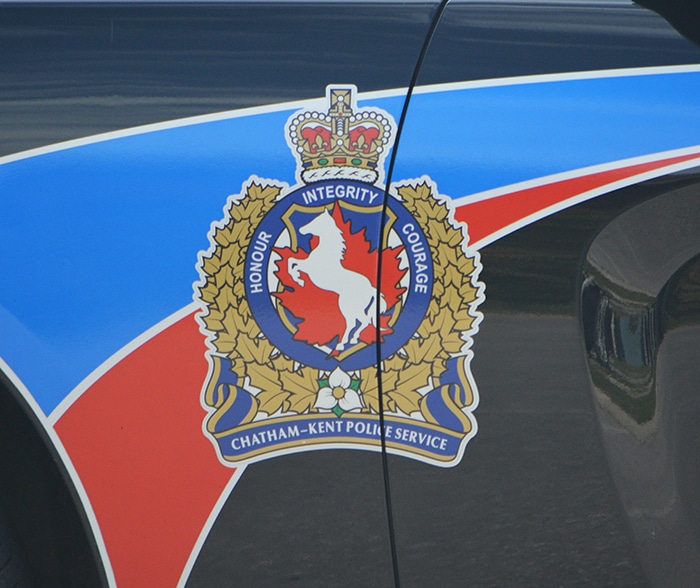 Woman dies due to her injuries
The woman hit by a vehicle in Ridgetown last week has died in hospital.
Chatham-Kent police say the 66-year-old Morpeth woman succumbed to her injuries Friday in a Windsor hospital
She was struck about 2 p.m. Oct. 19 after she got out of her vehicle on Main Street. Police say a passing vehicle hit her and the driver took off.
The woman was taken to hospital here, and then airlifted to Windsor with life-threatening injuries. Two days later, she died.
Meanwhile, with the assistance of witnesses and video surveillance, officers located the vehicle and driver.
A 38-year-old Ridgetown man has been arrested and charged.
Domestic assault charges
On Sunday, police responded to a disturbance at a residence in Chatham.
Through investigation, police learned that a man assaulted a woman and that this was not the first incident of domestic violence between the pair.
Yesterday afternoon, a 34-year-old man attended police headquarters and turned himself in. He has been charged with assault and three counts of assault causing bodily harm.
Truck stolen in Chatham 
Sometime over the weekend, someone stole a grey Ford F-150 pick-up truck from a business on Byng Avenue.
The truck was last seen with Ontario license plates BC9 2720.
Anyone with information is asked to contact Const. Taryn Apers at taryna@chatham-kent.ca or 519-436-6600 ext. 87386. Anonymous callers may call Crime Stoppers at 1-800-222-TIPS (8477) and may be eligible for a cash reward.
Conditions violated
In early September, a man entered into a Conditional Sentence Order with several conditions. One of those conditions stated that he was to remain inside his residence at all times, except for medical emergencies and between noon and 4 p.m. when he was allowed to go shopping to acquire the necessities of life, police say.
On Monday afternoon, police located the man on Grand Avenue East in Chatham, outside his residence, with no lawful reason.
A 43-year-old Chatham man was arrested and has been held in custody pending a bail hearing.
Fraud warning
The Chatham-Kent Police would like to warn everyone about a scam that resulted in a local woman being defrauded of $8,000.
Last week, the woman received a telephone call from a man purporting to be a lawyer and another man posing as the woman's son-in-law, who apparently had just been arrested.  At this time, the pair requested $8,000 cash for his bond.
The woman went to her her bank, withdrew the money and turned over the cash to an "appointed officer" who attended her home in a black Ford F-150.
This transaction occurred before the woman confirmed the story with family members as the fraudsters told her not to speak to anyone, as there was a "gag order" in effect due to the severity of the incident.
The key to protecting yourself from a fraud or scam is to first of all recognize it, police say. Remember that scammers use intimidation tactics and want to pressure you into providing information and making decisions quickly.
Police say if you get a suspicious call, don't panic. Take the time to do your research before taking any action.
For more information, please see https://www.antifraudcentre-centreantifraude.ca/index-eng.htm