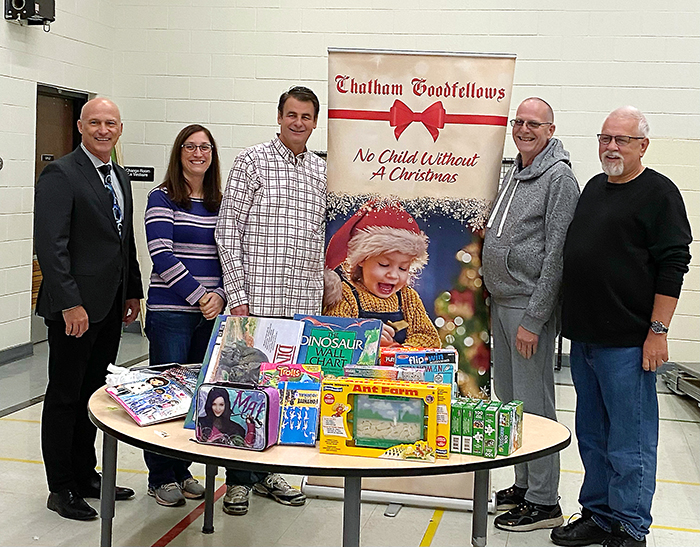 The St. Clair Catholic District School Board will provide space in the former Monsignor Uyen Catholic School building on Lark Street to the Chatham Goodfellows, for use as the organization's toy barn for its 2022 Christmas campaign. 
This will be the Chatham Goodfellows' 68th year of ensuring there is "'no child without a Christmas."
"St. Clair Catholic is pleased to make this vacant school space available for such a worthy organization in our community," Scott Johnson, Director of Education, said in a media release. "We support the great work of the Goodfellows on behalf of the children and families in Chatham-Kent."
"Each year it is the goal of the Goodfellows to provide Christmas dinner and toys to families who need help, to ensure a happy Christmas for all," Tim Haskell, past president of the Chatham Goodfellows, said. "We thank the St. Clair Catholic District School Board for helping us to make this happen again this year by making this space available to us."
The school closed in 2021, when the Monsignor Uyen Catholic School community moved to the newly refurbished site on Baldoon Road. The board is now in the process of offering the Lark Street property for sale. In the meantime, this temporary use of the building supports the mission of Catholic education and the Board's priorities and values.
Donations to the Chatham Goodfellows are accepted by cheques mailed to P.O. Box 114, Chatham, ON N7M 5K1; or by e-transfer to donate@chathamgoodfellows.ca 
Applications will be accepted online on Nov. 1 for anyone who has applied in previous years. All others please call 519-354-1146 beginning Nov. 7 from 9 a.m. until 3 p.m. on weekdays. Applications close Dec. 2.
Toy packing will take place at the former Monsignor Uyen Catholic School, 255 Lark St. in Chatham on Dec. 12, 13, 14 and 15. Volunteers are welcome.