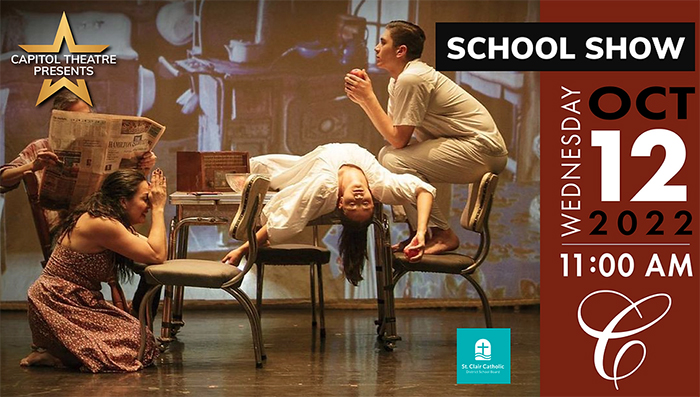 "The Mush Hole," an acclaimed theatrical dance piece portraying the harsh realities of Canada's first residential school, is coming to Chatham.
A partnership between the St. Clair Catholic District School Board and the Capitol Theatre will see two performances of the play presented on Oct. 12.
Garnering its name from the porridge, or "mush" young Indigenous students were forced to eat, The Mush Hole tells the story of the Mohawk Institute Residential School operating in Brantford between 1831 and 1970.
The school was a key tool in the effort to assimilate First Nations children into Christian society, leaving a legacy of unimaginable trauma.
Created by Six Nations choreographer Santee Smith, the award-winning piece is performed by the internationally acclaimed Kaha:wi Dance Theatre. Smith said The Mush Hole draws from the memories of two generations, paying tribute to their remarkable resilience.
Visceral performances are given by an all-Indigenous cast and it includes cinematic imagery and a haunting musical score.
According to Smith, the play's artistic producer/director, along with reflecting upon the experience of residential schools, The Mush Hole also offers a way to open up dialogue and to heal through acknowledgment and by honouring the spirit of Survivors.
In 2020, The Mush Hole received five Dora Mavor Moore Awards, including outstanding new play, outstanding performance by an ensemble cast and outstanding direction.
The play is part of the call for Truth and Reconciliation which has 94 Calls to Action and helps expand the learning experience and awareness around the impacts of residential school beyond Orange Shirt Day.
Thanks to financial support from the SCCDSB and C-K Employment and Social Services, pricing for the tickets is discounted. At the 11 a.m. performance for students, tickets are only $5, while the second performance for general admission for the public at 6 p.m. will cost $10.
A question-and-answer period will follow each one-hour performance.
It should be noted The Mush Hole deals with sensitive issues and is not appropriate for youngsters under the age of 13.
Tickets can be purchased by calling 519-354-8338, 1-866-807-7770 toll free, or online at www.cktickets.com.
They can also be purchased at the Chatham Cultural Centre box office, Monday to Friday, from 10 a.m. to 4 p.m.