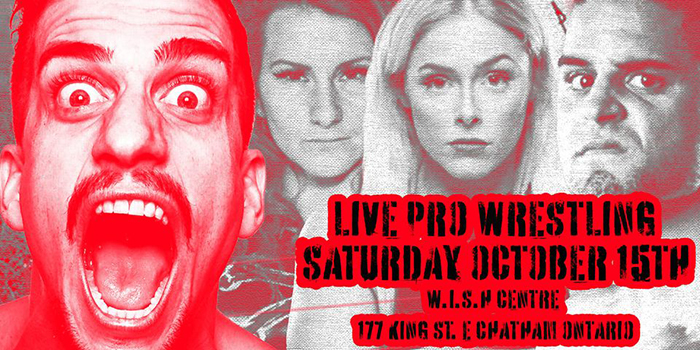 Chatham is getting ready to rumble, as the WISH Centre will play host to Live Pro Wrestling action Oct. 15.
Organizers with the Live Pro Wrestling event said they're excited to bring a high-quality and family friendly event to Chatham-Kent and area wrestling fans.
"A live wrestling event is a pretty unique experience that doesn't compare to much else," said Jay Smith of the organizing team in a media release. "We've got some of the top names around and the best up-and-coming talent from Ontario, Michigan and Buffalo all joining us in Chatham for the show. Our goal is to bring a really solid and fun product to local fans and help them get lost in the magic."
The organizing team is comprised of four local long-time Southwestern Ontario pro wrestling event veterans, Jim Lengyel, Matt McAusland, Holly Lengyel and Smith, who each have 20 years of in-ring and event planning experience. Lengyel, McAusland and Lengyel were all previously involved in running Can-Am Rising, a wrestling promotion in the Windsor area in years prior.
Smith, a local radio announcer and morning man on 99.1 CKXS, had been contemplating organizing a future charity wrestling event, potentially for the CK Hospice, an organization close to his heart, when the group began discussing a potential event together.
Tickets are available for the event from the WISH Centre in Chatham, 99.1 CKXS in Wallaceburg and Silver Tees Golf & Virtual Gaming Centre in Windsor.
Online tickets can be purchased on Eventbrite at https://www.eventbrite.ca/e/live-pro-wrestling-in-chatham-tickets-389971002767
General Admission tickets are $25 in advance and $30 at the door. Doors open at 6 p.m., with bell time at 7 p.m.