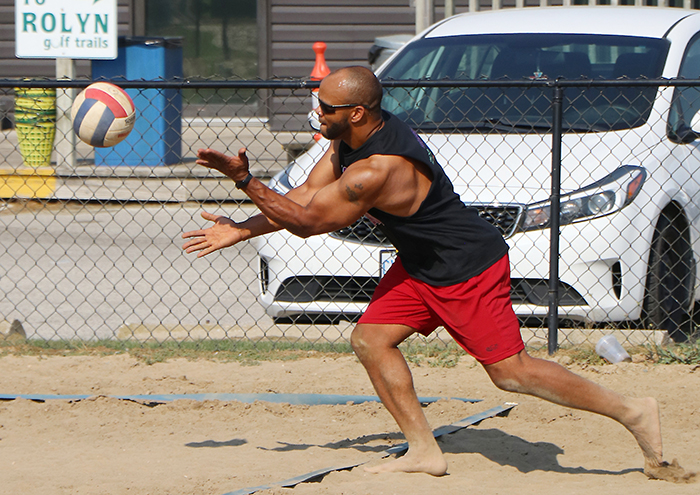 By Pam Wright
Local Journalism Initiative Reporter
Elisha Banks is back in the saddle.
The founder of the popular Music for the Mind fundraiser has recently re-launched the campaign aimed at helping those who struggle with mental health.
On Sept. 17, 130 people took part in a 19-team volleyball tournament at Southside Tap & Grille in Chatham, raising just over $6,000.
"It really feels good to be back," Banks told The Chatham Voice. "Everything ran so smoothly and it was perfect weather. I couldn't have asked for it to go any better."
The 2022 version of Music for the Mind will see all monies raised split between Family Service Kent to subsidize counselling for children aged six and up, as well as The Family Service Kid's Team.
As in the past, Banks said, her goal is to lend a helping hand to those in the community facing mental health issues.
"My hope is that no one is turned away from getting help," Bank said.
"There are some who can't afford it," she added, "and this will help cover the balance for some and will subsidize others.
"I want to be able to support both children and adults with mental health in our community," Bank said. "For me, it comes down to the fact that mental health issues affect so many people."
Getting Music for the Mind back on track is a milestone for Banks, who has struggled with her own mental health concerns and with the fundraising she undertook on behalf of the Chatham-Kent Health Alliance Foundation (CKHAF).
She's legally forbidden to discuss any of the issues she had with the Foundation publicly, but in previously published reports in this newspaper, it was reported Banks raised around $92,000 for the CKHAF.
In the year from 2019 to 2020, Music for the Mind raised $30,000 and in the second year from 2020 to 2021, the fundraiser generated more than $60,000.
The money was intended to be used to purchase toiletries and personal care products for patients staying on the mental health ward.
Banks had discovered during a stay on the ward that nurses and health-care workers were buying supplies for patients out of their own pockets as many arrived in severe crisis without any of the bare necessities such as socks and toothbrushes.
However, the money wasn't used and was instead being kept in a Foundation bank account.
As previously published articles in The Voice indicate, Banks found out the money wasn't being used for mental health patients after visiting a friend on the ward.
The matter was dealt with by senior hospital staff who have assured Banks essential supplies would come out of the CKHA budget in the future.
But that was then and this now, and Banks said she's
simply glad to be back in her happy place.
She hopes to copy the success of previous Music for the Mind concerts at The Kent in Chatham and The Boonies in Tilbury, where local artists donated their performances to the charity.
She also continues to collect cans and bottles, and is hoping to hold another fundraising night at Boston Pizza where a percentage of sales was donated to Music for the Mind.
Banks hopes people will embrace the new direction of Music for the Mind.
"I'm so grateful to this amazing community for the continued support for the community," Banks noted. "Without them I would not be able to do what I do to support people who struggle with mental health."
If you wish to donate or find out more, visit Music for the Mind online at https://www.facebook.com/musicforthemindck.