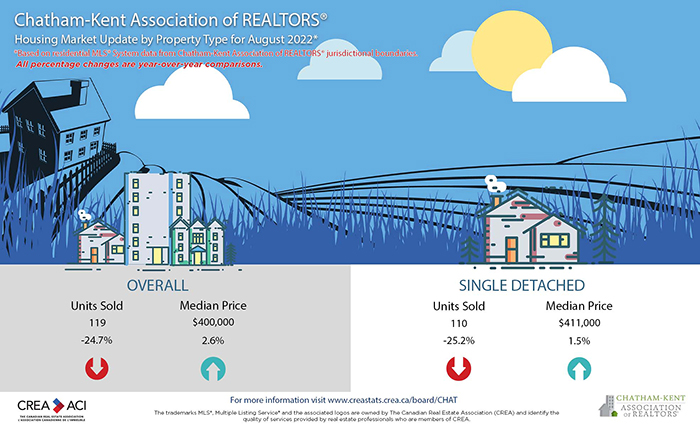 While August temperatures were steamy here in Chatham-Kent, property sales were downright chilly.
According to figures from the Chatham-Kent Association of Realtors (CKAR), home sales tumbled by nearly 25 per cent compared to August 2021, as 119 units changed hands.
That fall saw home sales dip nearly 16 per cent below the five-year average, and, more telling, about 12 per cent below the 10-year average for August.
Amber Pinsonneault, president of the CKAR, said the low numbers weren't surprising.
"August was a slow month, which it typically is. But this was also the first time in two years that basically people could actually go away and do something," she said.
Looking on a year-to-date basis, home sales totalled 985 units over the first eight months of the year. This was a substantial decline of nearly 20 per cent from the same period in 2021.
Pinsonneault said August was the first month in years to show an actual decrease in the average price of a home sold, $421,638, as the price dipped by two per cent compared to August of 2021.
However, in terms of the price of homes sold through August in 2022, the price of the average home compared to the same period a year ago, remained up by nearly 19 per cent.
Pinsonneault still sees C-K as a solid real estate market.
"Chatham-Kent is really performing well in comparison to other cities. They are seeing double the decrease in home sales and they have been seeing their property values going down," she said. "Here, people are still getting great value. Buyers are still getting to make offers with conditions."
With the Bank of Canada hiking interest rates by three quarters of a per cent last week, the president of the CKAR said that hinders buying power for some prospective home buyers.
The good news in home sales is inventory. There are more homes on the market now, as there were 239 new residential listings in August. This was the largest number of new listings added in the month of August in 15 years.
Active residential listings numbered 375 units on the market at the end of August. Active listings haven't been this high in the month of August in more than five years.