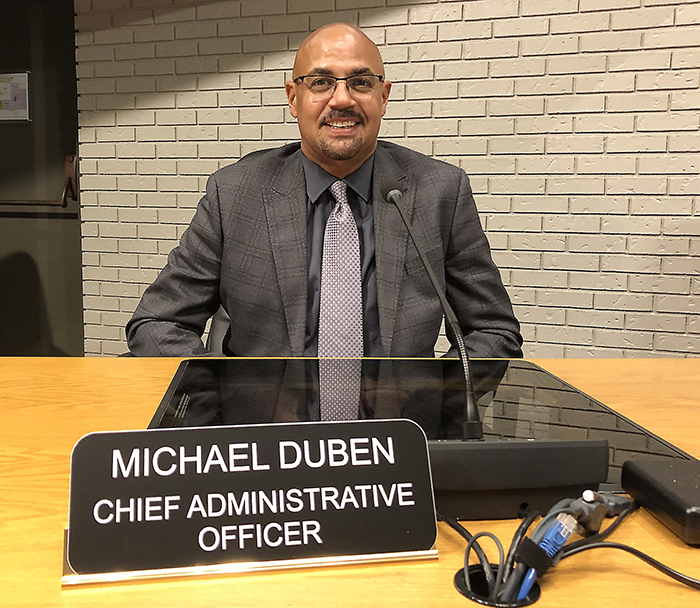 By Pam Wright
Local Journalism Initiative Reporter
Learning the ropes is priority one for Chatham-Kent's new Chief Administrative Officer.
In a meet-the-media event only three hours into his new job, Michael Duben told reporters that getting to know staff and exploring the municipality's large geographic area are at the top of his to-do list.
Duben noted Chatham-Kent is a "big organization" and that while he has a lot of knowledge about municipal government, Chatham-Kent has its own unique opportunities and challenges.
Meeting people and getting to know senior staff is crucial, Duben said.
"I don't believe you can be good leader if you don't know what your people are saying," Duben explained, adding he plans to get a first-hand look at as many of Chatham-Kent's work stations as possible.
"I always try to surround myself with people that are smarter than me," Duben said with a smile, noting he is not qualified" to do the wide variety of jobs within the organization.
"To be able to lead those individuals is really kind of rewarding," Duben said, because "every day you learn something" from the employees.
"There are some really hardworking people here who really know what they are doing."
Duben's knowledge of municipal government is deep and he brings both public and private sector experience to the job. He most recently served as the CAO of Oxford County for 21 months and as District of Muskoka CAO for seven years prior.
He is a former general manager in the City of Windsor, and is a lawyer with 10 years' experience as a senior corporate law partner with Miller Canfield LLP in Windsor.
One of the reasons Duben said he was attracted to the job here is because Chatham-Kent is a single-tier municipality.
"It's very clear to the public who is responsible for what," he said.
Duben also did his homework on Chatham-Kent.
"My understanding is we've got a good strong council – a very innovative organization, that is placing "emphasis on diversity, equity and inclusion."
When questioned about his vision and goals, Duben pointed out the 18-member council makes the decisions and his job is to carry out those decisions.
The possibility of a new civic centre complex in the Downtown Chatham Centre is one of the projects Duben will be working on, and the Wheatley disaster will continue to be a priority.
Shaping the municipality into being "an employer of choice" is another goal Duben would like to work towards, noting it's an employer's market and attracting and retaining good staff is a challenge all organizations are facing.
Mayor Darrin Canniff said the municipality is "extremely lucky" to have Duben, adding the veteran municipal leader is well respected in the municipal sector.
"He's certainly the person to lead us to a whole new level," Canniff said, adding he support's Duben's vision to make the municipality "an employer of choice.
"If we have great staff, we can have great service."
Duben is replacing former CAO Don Shropshire who retired from the position late last year. However, Shropshire has continued to assist with the Wheatley disaster.
Duben has purchased a home in Chatham and will be moving here later this fall.