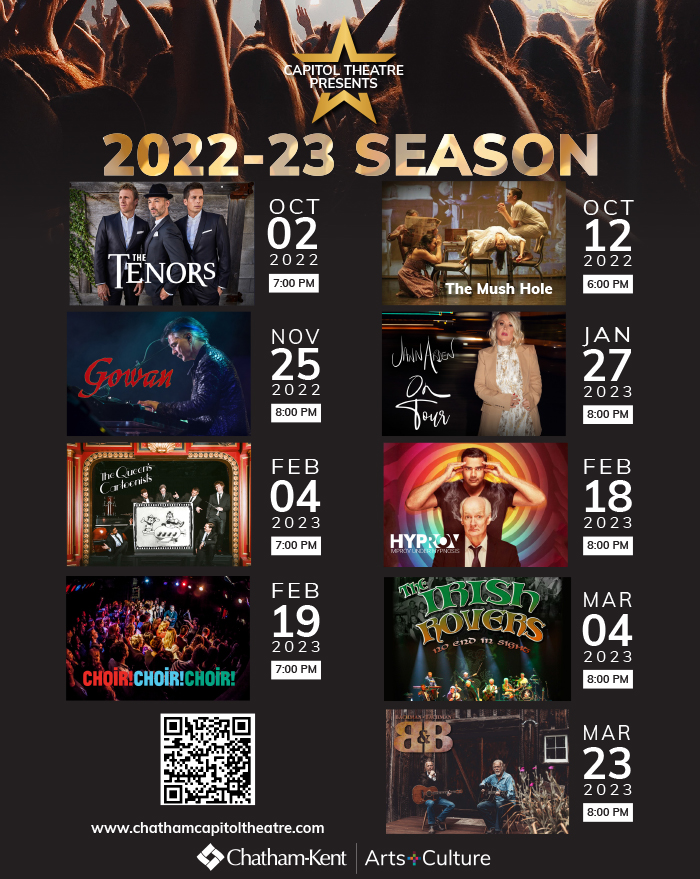 Classic Canadian entertainers, international voices and comedy are on the menu for the Chatham Capitol Theatre in the coming months.
Teh theatre released its fall and winter schedule recently, with the likes of Randy Bachman, Jann Arden, Lawrence Gowan, the Irish Rovers and Colin Mochrie on the schedule.
After an extended intermission due to the COVID pandemic, the Capitol will hold its first "Capitol Presents" season in three years.
The season kicks off Oct. 3 with a one-night only performance by The Tenors. Canada's Mark Masri and Sicily's Alberto Urso have recently joined Clifton Murray and Victor Micallef to form a brand-new quartet.
Other events include:
Oct. 12: The Mush Hole, a story of Canada's first Indian Residential school, the Mohawk Institute, and honours the resilience, courage, and strength of residential-school survivors.
Nov. 25: Canadian rock legend Gowan performs.
Jan. 27: Multi-platinum award-winning singer, songwriter, actress and author Jann Arden takes the stage.
Feb. 4: Enjoy an evening of classic and contemporary animated cartoons, with the audio tracks performed live on stage, The Queen's Cartoonists perform.
Feb. 18:Hypnosis and improvisation come together in Hyprov: Improv Under Hypnosis, featuring Colin Mochrie and Asad Mecci. 
Feb. 19: Sing out your 1980s memories with Choir! Choir! Choir!
March 4: The Irish Rovers, who were booked to perform on March 17, 2020 only to be pushed back due to the pandemic, return to the Capitol Theatre stage. 
March 23: Out of a global pandemic comes a new story from father-son duo Randy and Tal Bachman. The pair tells stories through song and visuals as Bachman & Bachman.
Find more information on upcoming shows at www.chathamcapitoltheatre.com. Buy tickets online at www.cktickets.com, call 519-354-8338 or toll free 1-866-807-7770, in person at CKtickets Box Office located at the Chatham Cultural Centre, 75 William St. N. Chatham.