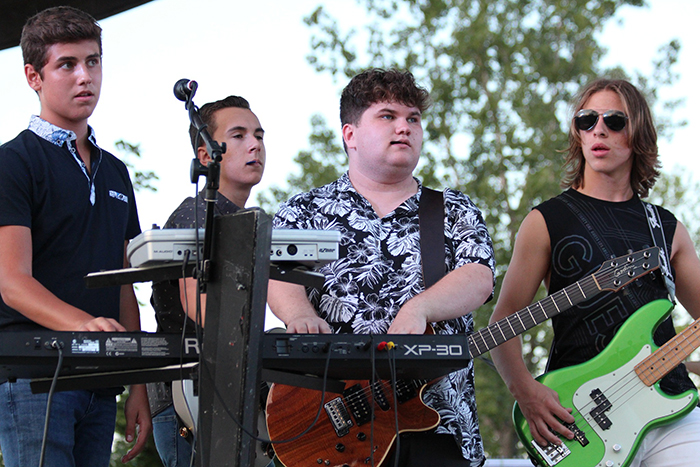 Mike Neuts wants you to Leave Those Kids Alone.
The head of the Make Children Better Now (MCBN) organization is bringing in the Windsor-based youth band Leave Those Kids Alone on Sept. 10 at Sons of Kent in their yard.
The fundraiser was supposed to take place more than two years ago. Those Kids have aged, but Neuts said they are still the voice of youth and are a great classic rock show.
"When we first saw them (in 2019), no one was over 17," he said. "The girl who is the drummer is now 13. They play 1960s, '70s, '80s and '90s classic rock & roll."
Neuts said ticket sales have been brisk.
"This week, sales have been going nuts," he told The Chatham Voice. "I have 20 tables spoken for. I think we're over 200 people easily right now, not counting family members of the Respect Revolution, and volunteers."
Respect Revolution, performance team from MCBN, comprised of local youth, takes the stage first at 5:30 p.m. The group will be followed by Leave Those Kids Alone's first set at 6:30 p.m.
Even though the concert is taking place outside at a craft brewery, Neuts stressed this is very much a family-friendly event.
"We won't go late into the night. We'll be done by 11," he said. "We're going to have a good night."
Tickets for the show are $15 each, and there are still a few corporate or family tables available, Neuts said.
People are encouraged to bring a lawn chair.
Food and beverages can be obtained on site, through Sons of Kent and an assortment of food trucks that will be on hand to fuel the fun.
DogDays Southern BBQ, Curbside Eats, Pretzel Central and Sugar & Crumb will be tantalizing the taste buds, Neuts said.
There will also be T-shirts for sale as well as raffle tickets for an indigenous quilt, which will be raffled off in October.
Tickets can be obtained at Sons of Kent, through MCBN board members, or call Neuts directly at 519-692-4116.
"If you love music, come and hear it," he said.