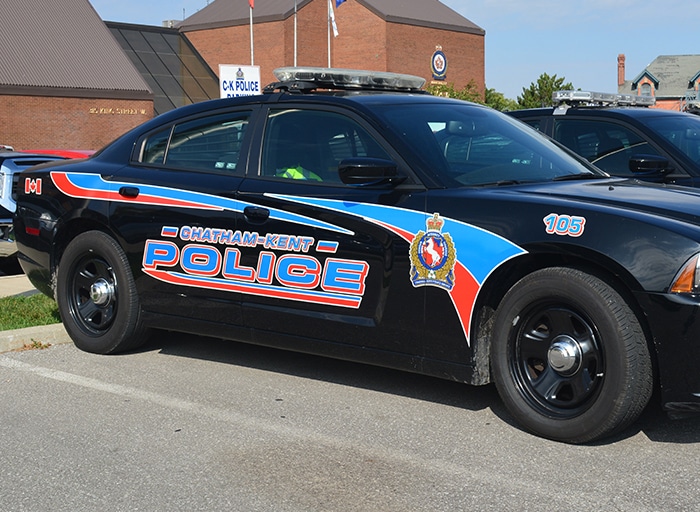 Suspected thieves arrested
Early Monday morning, Chatham-Kent police tracked down a pair suspected of stealing an ATV in May.
Sometime between May 14 and 15, a red Suzuki ATV was stolen from a Walpole Island residence.
Five days later, the ATV was located by the Chatham-Kent Police Service in a parking lot on Westcourt Boulevard in Wallaceburg.
Through investigation, officers were able to identify the suspects involved. After attempts to locate the suspects without success, a warrant was issued for their arrest.
Early this morning, at 12:25 a.m., police located and arrested the man and the woman on Wallace Street in Wallaceburg.
A 31-year-old Wallaceburg woman and a 38-year-old Walpole Island man were arrested and charged with possessing stolen property.
Tool theft
Sometime overnight on Friday, someone entered a construction trailer in Chatham and removed several power tools valued at approximately $3,500.
Anyone with information is asked to contact Const. Corey Atkin at Coreya@chatham-Kent.ca
Concrete cutter stolen
On Saturday, officers were dispatched to a business on Baldoon Road near Wallaceburg in response to a break and enter.
Officers discovered that sometime over the past week, someone forced entry into a garage, stealing a concrete cutter and other items valued at $1,800.
Anyone with information is asked to contact Const. Levi Tetrault at levit@chatham-kent.ca or 519-436-6600 ext. 8107380. Anonymous callers may call Crime Stoppers at 1-800-222-TIPS (8477) and may be eligible for a cash reward.
Bikes stolen
On Friday morning, police responded to a break and enter and theft of a bicycle on McNaughton Avenue in Chatham.
Through investigation, police were able to determine who was responsible for taking the bike.
A short time later, police located that male in possession of the bike a short distance away. Police learned that the male also had a warrant for his arrest.
A 28-year-old Chatham man was arrested for possession of property obtained by crime.
Mischief
On Sunday afternoon shortly after 3 p.m., Chatham-Kent police responded to a domestic disturbance on Wedgewood Avenue in Chatham.
Upon arrival, police learned a man and woman were dissolving their relationship. The man was upset and damaged a ceramic statue owned by the woman, police say.
A 25-year-old Chatham man was arrested and charged with mischief.
Warrant arrest
On Sunday morning shortly after 7 a.m., police located a man riding a bicycle on Elizabeth Street in Chatham.
A 33-year-old Chatham-Kent Man was arrested on a bench warrant for failing to attend court and transported to police headquarters.