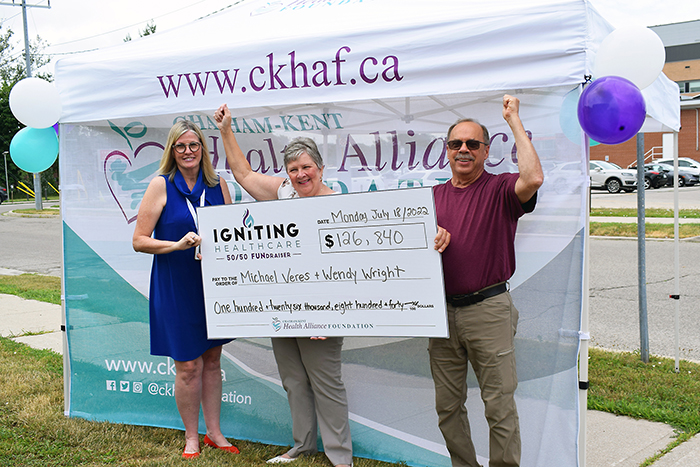 Chatham's Mike Veres' wife Wendy thought it was a joke at first, but they are the ones doing all the laughing after realizing he did indeed win the Igniting Healthcare 50/50 draw last week.
Veres claimed the prize Monday.
"I buy these 50/50 tickets every year, because I know that they are for a good cause. This year, I bought them online the morning of the draw," Mike said in a media release. "A few days later, I saw an e-mail come in from the Foundation with the winning ticket number, so I checked my tickets, and it turned out that we had the winner."
Disbelief set in, however.
"I didn't believe it," his wife, Wendy said. "I thought that it had to be some sort of mistake."
It was no mistake. Mike and Wendy had hit the jackpot.
The Foundation of the Chatham-Kent Health Alliance conducted the annual draw. They picked the winning number July 13, with Mike walking away with half the funds, and the CHKA utilizing the other half to support the purchase of two new pulmonary function test units for CKHA; one for each of the Chatham and Wallaceburg sites.
As proud parents, grandparents, and great-grandparents, Mike and Wendy said they plan to share the winnings with their family. They also hope to hold on to some of it in order to travel and purchase a new vehicle in the near future.
This marks the fourth consecutive year in which the Igniting Healthcare 50/50 FUNdraiser has awarded a jackpot in excess of $100,000. Since its inception in 2019, the fundraiser has raised a grand total of $1,160,300, with half of those funds paid out to the winners, and the other half used to purchase equipment for the CKHA.
A total of 7,031 tickets comprised of 806,500 numbers were sold over the course of the campaign.