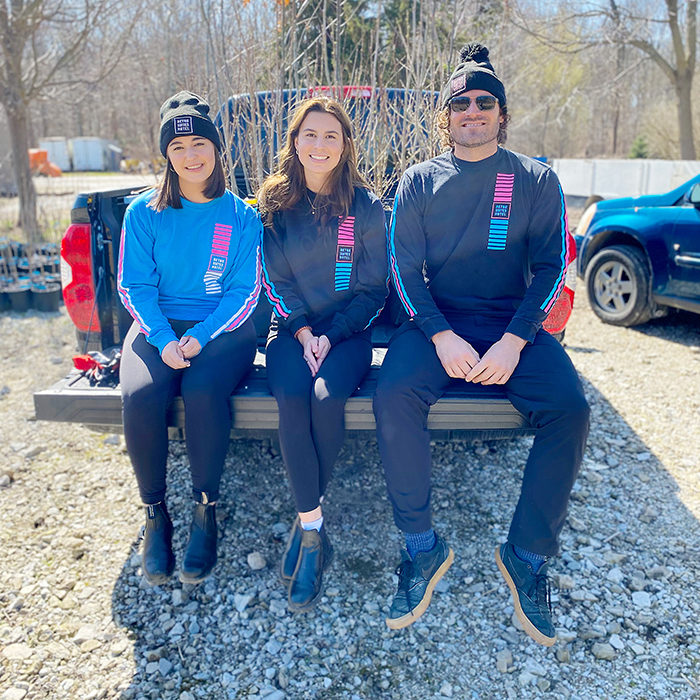 At the historic Retro Suites hotel, Do Not Disturb signs are turning the world green.
It's under a unique initiative whereby staff keep track of guests who forego having their rooms cleaned by hanging out the Do Not Disturb sign.
The money saved translates into Retro Suites purchasing trees and donating them to the Lower Thames Valley Conservation Authority and ReLeaf Chatham-Kent.
Thanks to the ecologically sound effort, the hotel lessens its carbon footprint while helping to boost forest and tree cover within the municipality.
The initiative began in 2020, but due to COVID-19, it didn't get as much recognition as it deserved.
However, more than 600 native trees planted over the last two years as the result of the Do Not Disturb venture.
"We see this being a long-term project," said Retro Suites marketing manager Miranda Sheffer, adding the hotel plans to keep improving the environment through the program.
"Coming out of COVID-19 with all the negatives, this is a positive," Sheffer said.
"Retro Suites Hotel recognizes the importance of awareness and the outstanding benefits that these native trees provide to our community," Sheffer said, as well as the "long-term benefits for our ecosystem."
In the spring of 2021, 200 saplings of native trees were given away to local residents with advice from ReLeaf Chatham-Kent founder and tree expert Mike Smith.
ReLeaf has expanded its nature connections and has formed a partnership with Sydenham Field Naturalists, Chatham-Kent's only naturalist club.
This year, Retro Suites Hotel has donated some larger trees to help kick off a fundraising effort to support both the SFN, the LTVCA and the St. Clair Region Conservation Authority.
Some of the trees found homes through an online auction put on by ReLeaf, with the proceeds rolled back into other planting projects.
Sheffer said the Retro Suites team wants to encourage other businesses to take part and challenge them to take in the re-greening effort by supporting LTVCA and ReLeaf CK through donations or planting.
Conagra marks milestone
A big shout-out goes out to Conagra, which recently marked 75 years of processing tomatoes in Dresden.
More than 275 people turned out at the special party held June 26, including current employees, retirees, growers, people from head office in Mississauga and their families. More than 150 people also toured the facility.
The plant, which produces a wide range of tomato-based products, is a Chatham-Kent institution and plays a significant role in agri-business holding up the motto of "We Grow for the World."
The plant has around 200 full-time employees, who are joined by an additional 200 seasonal workers for the annual tomato run.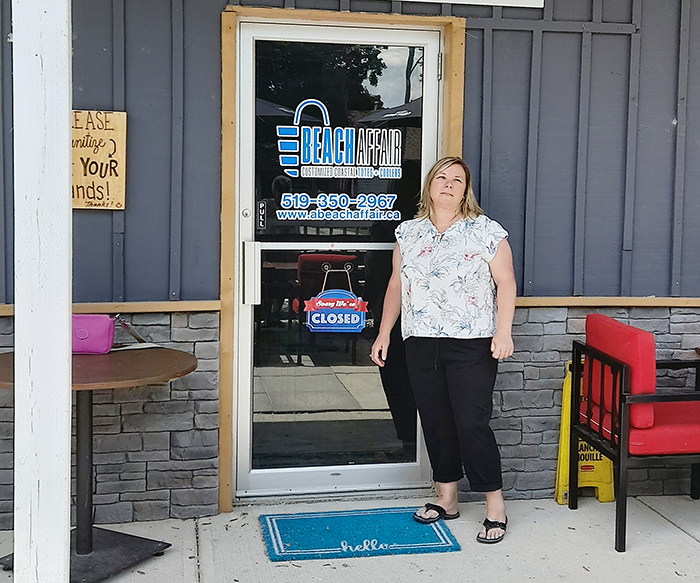 A Beach Affair
Jamie McGrail has opened a new beach store in Mitchell's Bay. It's located in the Bob n Buoys Restaurant building at 20 Main St.
"I have tried to incorporate the boater, vacationer, day tripper to the beach, fisherman and camper," McGrail said of her shop, which offers a variety of items, including signs, towels, soaps, hats, custom totes and coolers, and beach décor.
Hours are Thursday and Friday 4 p.m. to 8 p.m., Saturday from noon to 7 p.m. and Sunday from 3 p.m. to 8 p.m.
For more information and to shop online, go to abeachaffair.ca.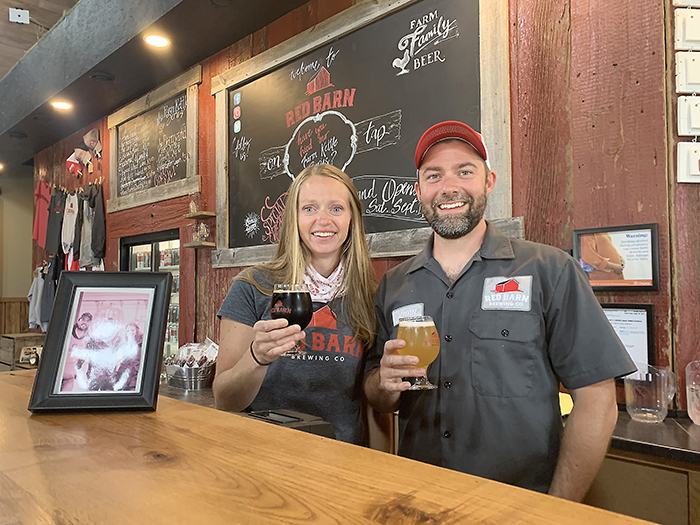 Barnstorming
Red Barn Brewing Co. co-owner Denny Vervaet is branching out to help others.
Vervaet has recently been named to the board of directors for Ontario's Southwest Tourism Strategy (OSWTS).
"Tourism has been something I have always been around by growing up in Port Dover and now, our business has allowed us to welcome visitors from all across Ontario," Vervaet said in a social media post. "I look forward to assisting and growing with OSWTS and their new strategy to ensure Ontario's Southwest remains sustainable, relevant, and competitive as a travel destination."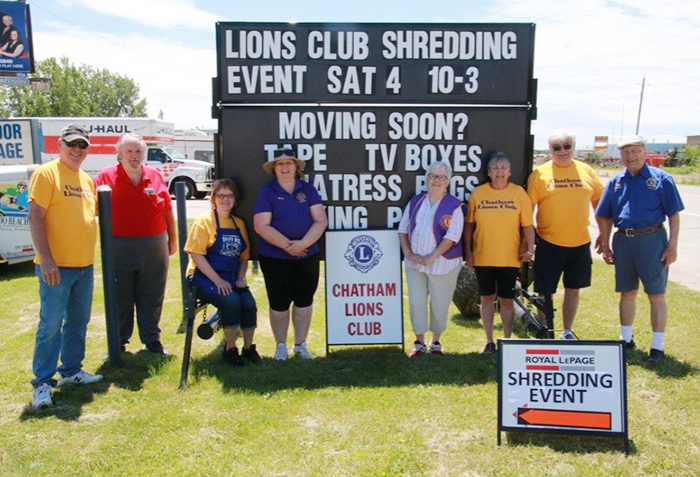 Lions shred it
The Chatham Lions recently held a shredding event, destroying documents as a fundraiser.
The shredding took place at Maple City Storage on June 4.
For a fee, people could discard of these documents and support the community through the Lions Club.
The event raised more than $1,100.
This is only possible thought the generosity if the community and Cynthia Hiatt of Royal LePage Peifer Realty, who sponsored the event so that 100 per cent of the money received, will be used in the community for those in need.
The Lions also hosted the annual Pet Value Dog Guide Walk in Lions Park in Chatham. The event raised more than $570.
This money supports the dog guide program that ensures individuals in need of a service dog do not have to pay for the dog or the training involved to prepare and qualify the dog for the task of performing his or her duties.
CKCHCC receives accolades
The Chatham-Kent Community Health Centres (CKCHC) and the Windsor Essex Community Health Centre (weCHC) have been honoured by the Alliance for Healthier Communities with its Transformative Change Award.
The award recognizes and celebrates exceptional examples of the Model of Health and Wellbeing (MHWB) in action, and recognizes teams, organizations, collaboratives, programs or services that champion transformative change to improve the health and wellbeing of people and communities facing barriers to health.
Dr. Ian Johnston accepted the award at a recent gala in Toronto.
CKCHC and weCHC are part of a partnership that includes Southwestern Ontario's Youth Gender Diversity Clinic that supports transgender children in Chatham-Kent and Windsor-Essex.
The affirmative care provided by Dr. Johnston provides services to youth under age 18, including assessment of gender dysphoria, the management of comorbid mental health conditions, as well as the initiation of hormone blockers, affirming hormone therapy and ongoing treatment monitoring.
Services are offered in Windsor, Chatham, Wallaceburg and Walpole Island.
For more information on the services provided by CKCHC visit www.ckchc.ca.
 Entegrus sells fibre business
Chatham-Kent-based utility company Entegrus, is selling off a piece of itself.
Entegrus Services Inc., operating as Entegrus Fibre located in St. Thomas, has agreed to sell Entegrus Fibre to Start.ca, headquartered in London
Start.ca will take over Fibre operations effective July 1.
"We are confident the team at Start.ca will be able to continue to provide the exceptional service that our customers expect," Jim Hogan, president and CEO of Entegrus, said in a media release. "Start.ca focuses on the customer experience, and has values closely tied to ours."
Entegrus took ownership of the St. Thomas Fibre business in 2018 and experienced several years of success while growing its services and community offerings throughout the Downtown Core and industrial areas of St. Thomas.
Entegrus will continue to own and operate its data cente located in Chatham, and focus resources on its core business of electricity distribution and industry related administrative services, while supporting the electrification of the communities it serves.
Business Voice is a bi-monthly column in The Chatham Voice that highlights some of the achievements made and efforts underway in Chatham-Kent's business community. Send your information to bruce@chathamvoice.com.