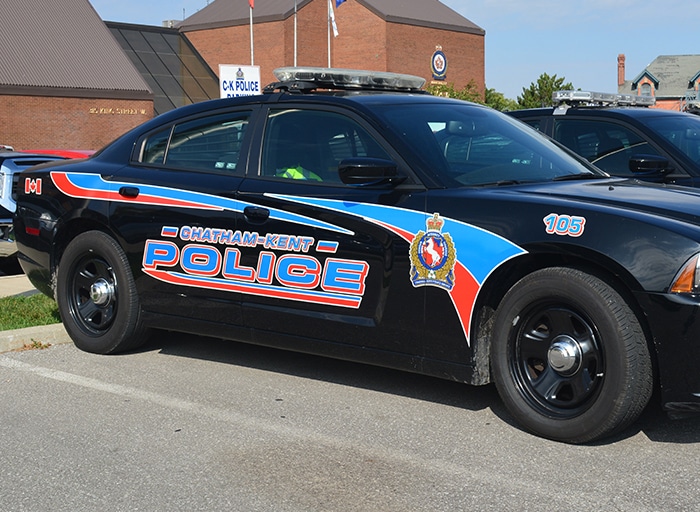 Tossing mad
Folks on Thames Street got a heck of a wakeup call on Wednesday morning.
Chatham-Kent police say someone tossed a brick through a business window shortly before 8 a.m.
A description of the man was provided to the police.
Less than two hours later, police responded to a suspicious man on William Street in Chatham who was seen breaking a window in a building and flipping garbage cans over on the street.
As officers arrived, police say the man was seen damaging a sign at the front of the Cultural Centre.
The man matched the description from the previous mischief complaint.
A 44-year-old Chatham-Kent man was arrested and charged with three counts of mischief.
Threats uttered, woman arrested
A lunch-hour argument ended in charged to a Chatham woman Wednesday.
Police say they got the call to a dispute on Wellington Street in Chatham just after noon.
Through investigation, police learned the woman made comments to her building manager that caused the manager to fear for their safety.
A 58-year-old Chatham woman was arrested and charged with uttering threats.
Fraud warning for grandparents
Police continue to receive reports of suspicious phone calls from people claiming they are a family member (grandchild) or from the family member's lawyer. This person claims to be in trouble with the police and requires money for bail.
They often ask the victim not to tell anyone and need the money immediately. Scammers will use panic, threatening language or an aggressive tone to scare you into making payments.
The Chatham-Kent Police Service wishes to remind everyone that personal or financial information should never be given over the phone, especially if you didn't initiate the call.
A key indicator you've received a scam call is if they ask for payment with iTunes or gift cards.
If you receive this type of call, hang up and call another family member.
For more information on how to recognize and protect yourself from a scam, see https://www.canada.ca/en/revenue-agency/corporate/security/protect-yourself-against-fraud.html