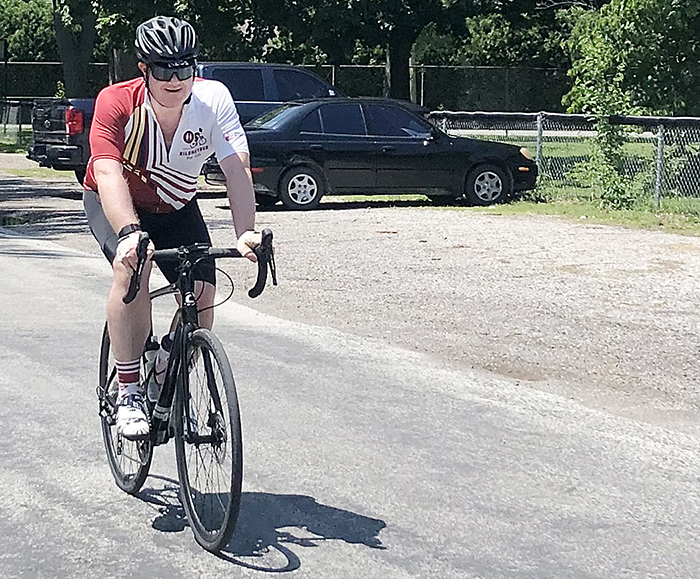 By Pam Wright
Local Journalism Initiative Reporter
Getting ready and getting sweaty.
That's what cyclist Alex Rauket has been doing in preparation for the 850-kilometre trip he'll be making from Ontario to Quebec in support of the Montreal Shriners Hospital.
Rauket will depart Port Elgin June 28 and is expected to arrive in Montreal July 5.
As part of his training regimen, and to raise awareness, the 37-year-old Shriner looped through Southern Ontario last week, popping in to visit local Shriner clubs to gather donations and inspiration for his Kilometres for Kids trek.
His motives are simple.
"The first reason is to raise some money for the Shriner hospital in Montreal and all the children that they help," Rauket said during a brief pit stop in Wallaceburg last week.
"The second thing is, the Shriners are all over North America and they're a volunteer organization," he added.
"Part of the idea of this is to raise awareness of what the Shriners do and why they do it," Rauket noted, adding he wants to help bring the message to a younger demographic who may not be aware of what the Shriners do.
Through his job as a shift supervisor at Bruce Power, the Kincardine resident said he has met many people with ties to Shriner hospitals who have shared "life-changing stories" of healing.
Members of the Mocha Cruisers Chatham Shriners club were on hand to meet Rauket when he rolled into Wallaceburg.
There in Steinhoff Park, the cyclist was presented with a $1,000 cheque to put towards his $50,000 fundraising goal.
Bob Kennedy, president of the Mocha Cruisers club, praised Rauket for his efforts, adding it's an extremely worthwhile cause.
"There are 22 Shriner hospitals in North America and these are self-funded," Kennedy explained, with Montreal being the lone Shriner hospital in Canada.
Surgeons at the Quebec facility specialize in orthopaedic and cleft palate procedures, Kennedy said and there currently six Chatham-Kent youth who are using the services out of Montreal.
Shriners hospitals for children are renowned for helping treat serious orthopaedic conditions, burns, spinal cord injuries and cleft lip and palate conditions, regardless of a patient's ability to pay.
A reception for Rauket was held in Chatham where he was presented with a $15,000 donation by the Chatham Ahcom Shriners Club.
The following morning he received a send off from Shriners in Blenheim as he headed along the lake to Windsor on the final leg of his training run.
Rauket plans to ride between 100 to 130 kilometres a day when he embarks on Kilometres for Kids.
To donate, go to bruceshrineclub.ca where Rauket is a member. Those who contribute qualify for a tax receipt.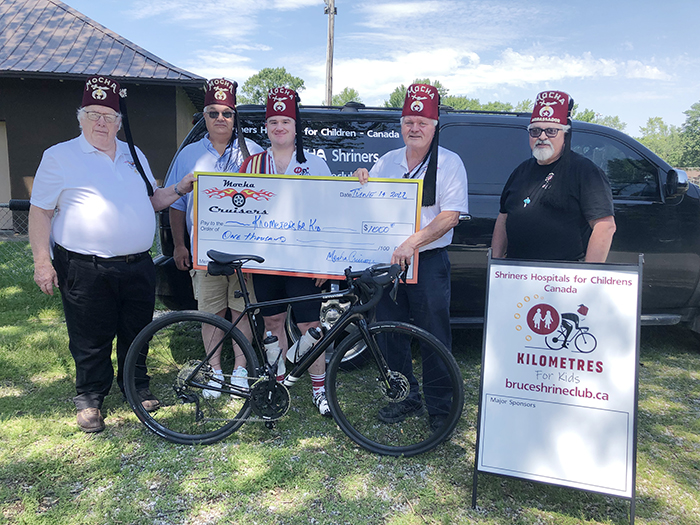 Comments
comments