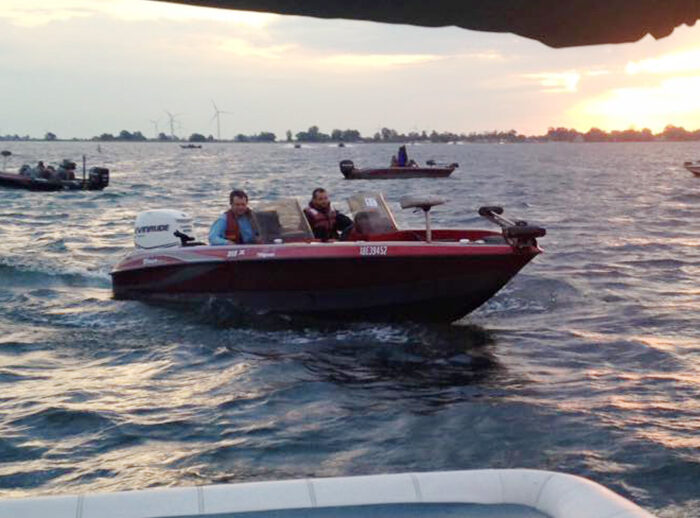 Izumis to take part this year
Summer events are back in a big way in Chatham-Kent, including on the water, with the Canadian Tire Mitchell's Bay Open Bass Tournament poised to launch its biggest field to date.
A total of 95 boats will roar out onto the water July 8 and 9, with 190 participants.
And those anglers include some very familiar faces – C-K natives Bob and Wayne Izumi, and fellow well-known Canadian tournament angler David Chong.
"All of them are fishing it (the Open) for the first time," Tom Beaton, one of the event organizers, told The Chatham Voice.
The Mitchell's Bay event usually coincides with the Canadian Open, Beaton said, meaning Bob Izumi has usually been committed to the national event. But this year he signed up for the local tourney, as the Canadian Open had not finalized a date at that time.
It happens to once again take place the same weekend, but Beaton said the Izumis and Chong are honouring their commitment.
Up for grabs is $40,000 in prize money.
Beaton said this will be the eighth year running the Open, as they cancelled the 2020 event due to the pandemic. Last year's event took place without spectators, but this year, it's back to normal, except bigger.
For starters, the organizers will have to run three flights of boats at take off, rather than two, due to the volume of participants. And additional off-site parking is needed due to all the boat trailer/truck combinations.
Mitchell's Bay Marine Park plays host to the weigh-ins and will be bustling all weekend long.
But there will be additional events taking place other than just the tournament.
Canadian Tire is back sponsoring the Kids Fishing Day. Beaton said 20 lucky kids will get a morning of fishing out on the water, lunch with their families and a nature hike with the Sydenham Field Naturalists. On top of that, each one will go home with a rod, reel, tackle box and tackle.
Izumi and Chong have committed to be on hand to support the event as well, he said.
The anglers' dinner takes place July 7.
There will also be An Evening with Bob Izumi, an event planned for July 6 at Sons of Kent, one of the event sponsors. Beaton said all anglers and sponsors are invited to the closed event, as well as municipal staff and councillors.
"It's a way of saying thanks and to give municipal staff and council an appreciation of the scope of a tournament this size," he said. "A lot of anglers spend a week in Chatham-Kent pre-fishing. They are spending money in our community even before the tournament takes place. The majority of these anglers are not local."
Beaton said the tournament remains a desired event by anglers for many reasons, including how it is run, the prize money, and the fishing.
"Lake St. Clair is famous for the bass factory that it is," he said. "Plus, there's nothing like catching smallmouth (bass). It's just so much fun."
And the goal is to put every fish back into the lake after each day. Beaton said the goal is to have one per cent or less mortality rate. The Long Point Bass Association's live release boat helps keep the mortality rate low, Beaton said.
Ever since organizers first discussed hosting this event a decade ago, it's all been about supporting the community.
"When we put this together, we wanted it to be a community event," Beaton said. "All of the profits go back into the community. We're run by a volunteer base of 50 people because we structured ourselves to be community minded."
The Open puts money into naturalization and wetland restoration efforts in the area, trail development, active laneway development, as well as improvements to the park and beach areas and other tourism enhancements.
"The committee is a pretty dedicated group of individuals," Beaton said. "We're lucky to have such a seasoned group."