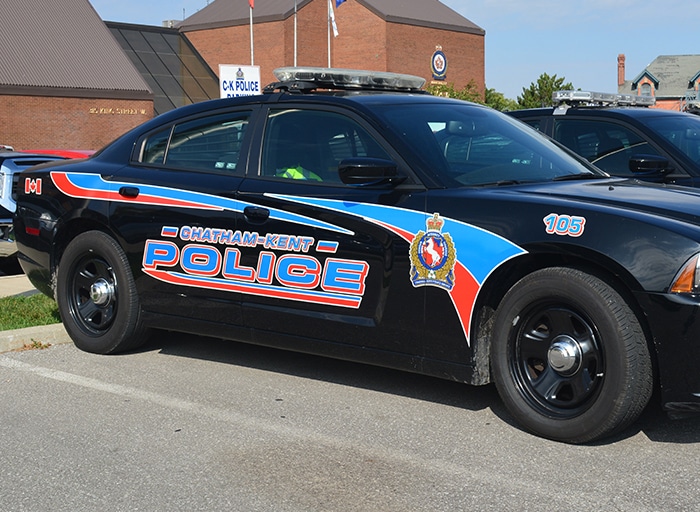 Motorcyclist badly hurt in crash
A Chatham man is fighting for his life following a motorcycle accident Sunday evening.
Chatham-Kent police say the crash occurred about 8 p.m. on Baldoon Road south of McNaughton Avenue. Only the motorcycle was involved.
According to police, the red, 2004 Suzuki GXR motorcycle was travelling northbound on Baldoon Road when the driver lost control and went off the roadway north of Finch Avenue. The motorcycle struck a No Parking sign on the east side of the road, and the driver was ejected.
The 48-year-old Chatham man, the lone occupant of the motorcycle, sustained life-threatening injuries and was transported to the hospital for medical attention. Family members have been notified.
The name of the driver is not being released at this time.
The Chatham-Kent Police Service Traffic Unit is currently investigating the collision. Anyone with information is asked to contact Const. Lisa Rodger at lisaro@chatham-kent.ca or 519-355-1092.
B&E suspect arrested in the house
A Wallaceburg homeowner had a rude surprise when he returned home Sunday afternoon to find someone in his house.
Chatham-Kent police got the call just before 1 p.m. to the Murray Street home. They arrived to learn the homeowner came home to see his door forced open and a man in his living room.
Officers entered the home and brought out the handcuffs.
A 32-year-old Chatham-Kent man was charged with break and enter and mischief.
Bail violations
On Sunday shortly after 12 p.m., Chatham-Kent police got the call to a parking lot on Third Street to check the well-being of a man and woman in a car.
Through investigation, police learned both the man and the woman were bound by release orders not to communicate with each other.
A 32-year-old Chatham woman and a 45-year-old Chatham man were arrested and charged with failing to comply with an undertaking.
Assault arrest
Police say a teen faces charges in connection to what had been an ongoing aggravated assault investigation in Tilbury.
On Friday, a male young offender who can't be identified under the Youth Criminal Justice Act was arrested and charged with aggravated assault.
Comments
comments