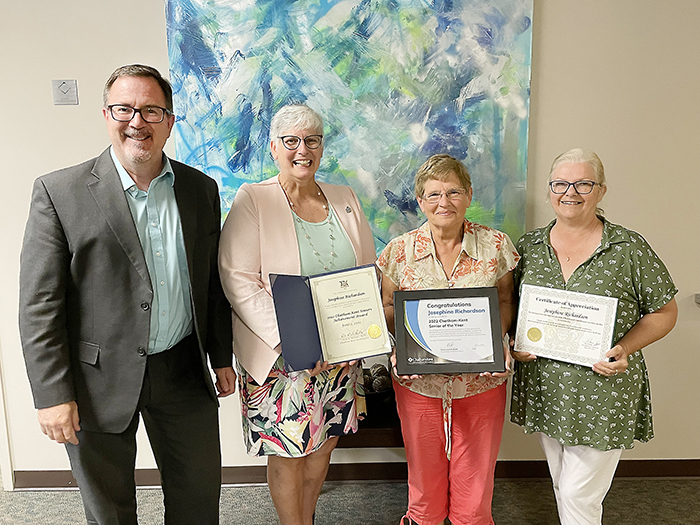 By Pam Wright
Local Journalism Initiative Reporter
Small but mighty is an apt description for Josephine Richardson.
The Chatham resident, who can usually be found at her sewing machine or helping others, has been named Chatham-Kent Senior of the Year for 2022.
The announcement was made during a live broadcast of the annual Chatham-Kent Celebration of Older Adults last week.
Richardson, who devoted herself to children as a former kindergarten teacher and home daycare provider, said lending a hand is just what she does.
"I just have fun," Richardson said of her volunteerism.
"I'm retired and can do whatever I want."
The 73-year-old isn't shy about revealing her age and doesn't feel it limits her in any way.
"It doesn't bother me," Richardson said. "It's just another number.
"I walk or ride my bike every day. I'm blessed. I do have my health and I'm so grateful."
Raised in Harwich Township with seven other siblings in the Roesch family, Richardson grew up sewing. She said the sewing machine was on the kitchen table at all times and was only moved off to the side for meals.
She joked that if you got up and left the machine to do something else, someone would quickly take your place.
Sewing has remained a passion throughout Richardson's life. A member of the Chatham-Kent Quilters' Guild, she has made quilts for C-K's police and fire services to give to people in emergency situations.
She's also made many quilts to be donated overseas to the Chatham-based charity Canadian Food for Children, and also for the Chatham Goodfellows.
When asked how many quilts she donated, Richardson said she doesn't know, but notes she spends about four to five hours on each quilt.
She adds that she makes simple children's quilts that are warm and cuddly, but not fancy.
"I'm a practical person and I want them to be used," she added.
The quilts have made their way around the world to South America, Africa and Ukraine.
Richardson embarked on a COVID-19 quilt challenge for herself, creating 103 quilts in 100 days.
Now she's working on a project that will see special quilts donated to residential school survivors.
Richardson also has another initiative she cares deeply about. She sews sanitary pads for young girls that are distributed in Africa.
So far she's made 36,000 of them.
"I really care about this," Richardson said. "It's so important for these girls to have these so they can continue to go to school and get an education."
Richardson lost her husband Gwyn nine years ago. She said that while she's saddened by the loss, she remembers the great life they had in their years together.
Now she's busy with six children, 14 grandchildren and has a great grandchild on the way.
Mayor Darrin Canniff, and Chatham-Kent councillors Clare Latimer and Marjorie Crew, co-chairs of the Chatham-Kent Celebration of Older Adults, all had high praise for Richardson.
Canniff said older adults are involved in nearly every event and community initiative in Chatham-Kent.
"The dollar value of your contributions would be in the millions," Canniff said, "but the value to our community is invaluable.
"Congratulations to all those being honoured and keep up the good work."
Other nominees for the award include Marlene Schives, Elizabeth Brown, May Stacho, Alphonse Duplessie, Annette Thibert Curtis, Joy O'Brien, Robert Vandersluis, Maureen Lowe, Doug Dolsen, Edward Hoffland, Brian Eby and Brian Christner.