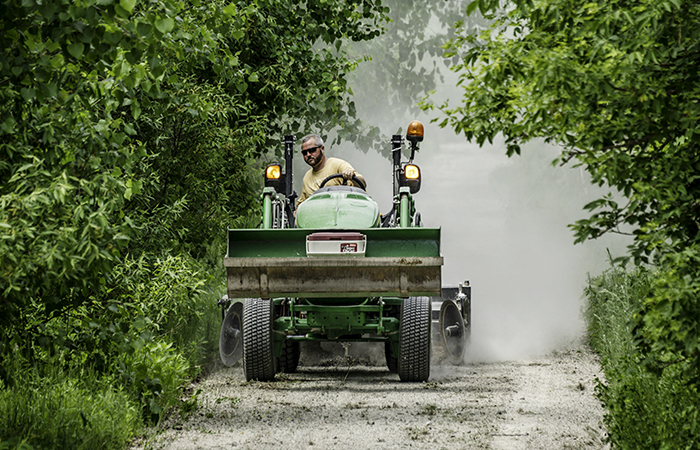 By Pam Wright
Local Journalism Initiative Reporter
Chatham-Kent's trail system is getting some love just in time for summer.
Volunteers recently pitched in to clean up a segment of the CASO trail, which is designated as part of the Trans Canada Trail system.
On Sunday a celebration was to be held to mark the official opening of the 21.5-kilometre Greenfield Global Trail.
Beginning at the intersection of Grand Avenue and Keil Drive, and routing to the Prairie Siding Bridge and along River Line, the trail has been about a decade in the making.
According to Genevieve Champagne, Chatham-Kent's Active Transportation and Special Event Co-ordinator, the Greenfield Global Trail was finished in late 2021, but an official opening couldn't be held due to COVID-19 protocols.
Champagne said the trail was developed by engaging with stakeholders, including cycling groups, to see what the public wanted in a new trail.
"Greenfield Global Trail has been in the works for about a decade," Champagne, adding a task force was set up to develop the trail.
Another Chatham-Kent trail is set to be completed this year thanks to a $1.6 million funding infusion from the municipality.
According to Champagne, the final 22-kilometre leg of the 32-kilometre CASO trail – a former rail line – will be completed this year, joining links in Duart, Muirkirk and Highgate, with segments in Ridgetown and Blenheim.
The unique pathway mirrors Southwestern Ontario's main traffic artery.
"It offers an active transportation corridor, parallel to the Highway 401 for active transportation users," Champagne explained.
The trail, operating under an easement agreement with Entegrus, runs along the former Canadian Southern Rail Line corridor.
Construction on the CASO trail started in 2018.
Champagne said other improvements expected to be completed in C-K in 2022 include further trail top ups, the removal of encroaching brush and repairs to areas that have been washed out.
The Wheatley Arboretum Trail will also be finished with the revitalization of Memorial Park Pathway in Tilbury and the Henry Smyth Pathway in Chatham.
Improved and interpretative signage and updated handbooks and maps are also part of the plan for 2022.
Improvements over the course of the pandemic included the grooming and top up of all CK's crusher dust trails.
Champagne said the pandemic brought the need for green spaces and trails to the fore as people flocked to the outdoors for exercise and recreation.
Along with providing an activity for Chatham-Kent's current residents, Champagne said the trail system is a major factor in attracting people to the municipality.
"Our trail system is very important for our local residents but also in attracting new residents," Champagne said, adding people want to know what recreational activities Chatham-Kent has to offer.
"Trails provide a wonderful, free recreational activity for all ages," she said.
New moms, seniors, youngsters learning to ride bikes, runners and other groups can all benefit from the trail system, Champagne said, noting trails provide a place for both low- and high-impact exercise.
As for the future, Champagne sees growth on the horizon.
"Over the last six years, we have had some amazing success moving forward with active transportation," Champagne acknowledged. "I cannot wait to see what the next six years will bring."