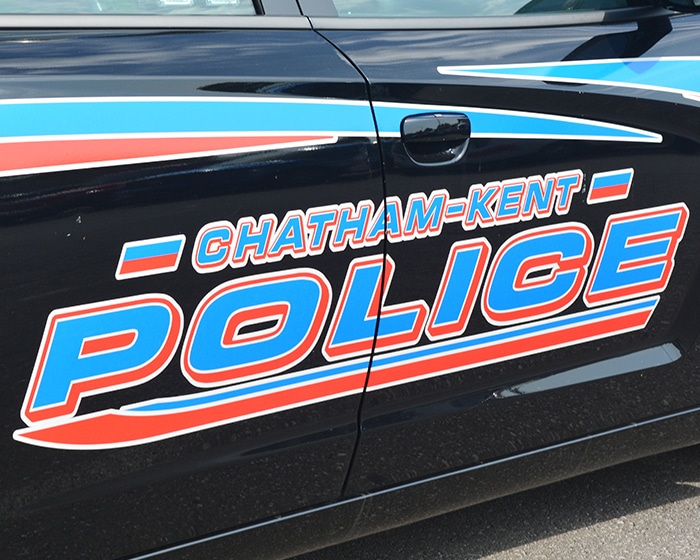 Failed B&E
Early Sunday at 6:47 a.m., Chatham-Kent police responded to a report the man was attempting to enter a building on Erie Street North in Ridgetown.
Police arrived, and the man fled the area. He was located a short distance away and arrested.
A 25-year-old Chatham-Kent man was charged with an attempted break and enter.
Crash leads to impaired charge
Shortly after 11 a.m. Sunday morning, police responded to a single motor vehicle collision on Talbot Trail near Coatsworth Road in Romney Township.
Officers learned this vehicle was the subject of a traffic complaint approximately one hour prior. Police believed the man to be driving while impaired.
A Standard Field Sobriety Test was conducted, and he was transported to police headquarters for further tests.
A 44-year-old Comber man is charged with impaired driving.
Bail violations
On Sunday at 11:46 a.m., police responded to a disturbance on Cross Street in Chatham.
Through investigation, the police learned the man was on a release order with conditions, including not being within 100 feet of a Cross Street address.
As police arrived, the man was found sitting at the entrance of this address.
Upon arrest, the man was found to be in possession of suspected methamphetamine.
A 34-year-old Chatham man was charged with failing to comply with a release order and possession of a controlled substance.
—
Shortly before 8:00 p.m. Sunday night, police began a bail violation investigation in Chatham.
It was alleged the woman was contacting a man and woman while she was on conditions not to have any form of communication with them.
Police investigated and found the woman was violating that condition.
A 47-year-old Wallaceburg woman was arrested and charged with failing to comply with a release order.