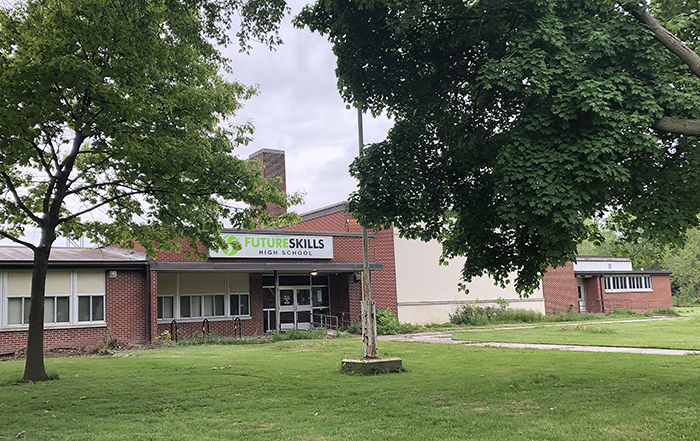 By Pam Wright
Local Journalism Initiative Reporter
It was all hands on deck last week as workers put on a final push to ready the new Victoria Park Place homeless shelter for its June 1 opening.
According to Polly Smith, Chatham-Kent's director of employment and social services, staff and volunteers were hard at it completing renovations at the former public school on Murray Street.
"We're counting down the days," said Smith. "There's been a few hiccups but it's getting done.
"We're grateful to our contractor. They are really working hard and making things happen."
The past couple of months have been a whirlwind for municipal officials tasked with finding a new location for the municipal shelter.
Chatham-Kent's lease with the current location at Chatham's Travelodge expired May 31, leaving only weeks before the shelter had to move.
The municipality had initially decided to relocate to Hope Haven on Wellington Street.
However a last-minute offer from a group of local developers saw the municipality switch the location to the vacant Victoria Park School.
The decision prompted a public outcry from neighbourhood residents concerned the homeless population will lead to an increase in crime.
According to Smith, the new 50-bed shelter will feature four sleeping areas with individual beds curtained off for privacy.
There's also a congregate indoor living area where residents can have meals and watch television, along with a quiet area with a bank of computers and laundry facilities.
"The computers are for residents who are looking for housing and work," Smith said, adding their use will be supervised at all times.
At least three staff members will be on site at all times, and that number will grow when other service providers attend to offer programs such as mental health supports.
A private outdoor area is also being constructed, Smith said, but it won't be accessible from outside the building.
People who aren't staying at the shelter aren't welcome on the grounds, Smith said, adding police will be called and trespassers will be prosecuted.
"We don't want people walking around the property," she explained.
Smith said Chatham-Kent police have already stepped up surveillance in the area, including the addition of bike patrols.
She said participating community partners want to ensure the area is safe.
"We can't control everything," Smith said, adding crime and drug use are issues that are present throughout Chatham-Kent.
"We try and do our part to help people get better and be housed."
There are no drop-ins allowed at the shelter, Smith and the "stayers" must access the service by calling ahead.
A recent bright spot is a number of homeless people have been housed this spring.
"It's been really production getting people housed," she said, but there's also been an increase in people becoming homeless.
About 55 people access the shelter service each day, she said.
But there's a downside, she added, as 91 people are listed as "chronically homeless," meaning they've been without housing for six months or more.
When shelter residents find a place to live, the municipality provides them with a basket of cleaning supplies to help them get started on their new way of life.