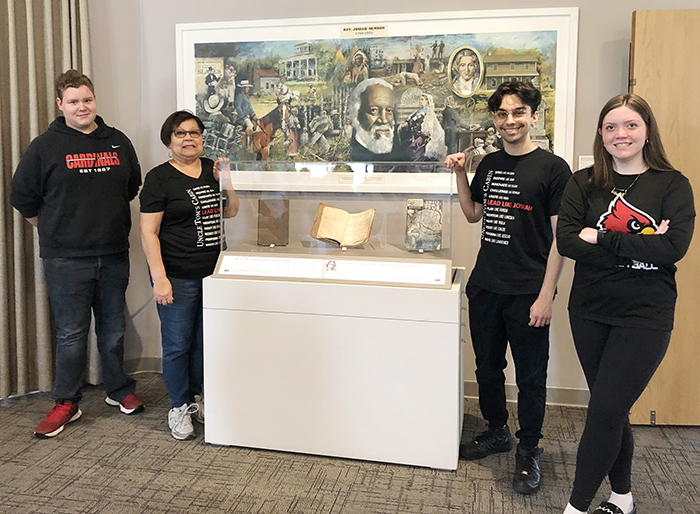 First face-to-face field trip in 2 years
By Pam Wright
Local Journalism Initiative Reporter
Grade 10 students who visited Uncle Tom's Cabin Historic Site last week were happy to be out of the classroom.
It was the first field trip for Lambton-Kent Composite School in two years and the first face-to-face student tour the historical site had offered since the onset of the COVID-19 pandemic.
Madelyn Metcalfe said it was nice to leave virtual learning behind and experience in-person learning.
She said it suited her learning style and she liked attending in person, rather than "taking notes and watching on a screen."
It was her first trip to the famed site and she said she learned a lot about Black history.
But as for racial equality, Metcalfe said she thinks society "has a long way to go."
Joey Burnsdenuke was another student glad to be able to experience face-to-face learning.
"Really interesting," is how Burnsdenuke described his second trip to Uncle Tom's Cabin, having attended as an elementary school student.
He enjoyed seeing the many objects and artifacts, including an original copy of the book, Uncle Tom's Cabin, by renowned abolitionist Harriet Beecher Stowe.
Burnsdenuke said technology – an up-to-date video of the site's history is played on the tour – adds to the experience.
However, he said visiting Uncle Tom's Cabin is far better than "sitting at a desk all day."
For site programs assistant Jackie Bernard, face-to-face engagement is also a new experience.
Hired just prior to the pandemic, Bernard – a Dresden area resident who is four generations removed as a descendent of Underground Railroad refugees – had until last week never conducted in-person tours.
She said she was impressed with the "attentiveness and respectfulness" of the students who visited the site.
"They've been stuck looking at computers long enough," Bernard emphasized, adding she "absolutely loves engaging with "real people and real faces."
Since 2005, Uncle Tom's Cabin Historic Site has been owned and operated by Ontario Heritage Trust.
Along with a modern museum and interpretive centre, the five-acre site showcases the home of the Rev. Josiah Henson. The former slave who came to Canada via the Underground Railroad worked tirelessly to help others from the United States make their way to freedom.
An author, abolitionist and minister, Henson – an important figure in Black history – founded the Dawn Settlement, along with a labourer's school at Dresden.
He also served as a conductor on the Underground Railroad, helping other Blacks escape slavery in the United States and build new lives in Upper Canada.
Site curator Steven Cook is glad the doors are open.
"It feels great to be dealing with the public once again after such a long absence," Cook said.
Being closed for so long was difficult in many ways, he added. However staff were able to pivot and share the story of Henson and the Dawn Settlement online.
According to Cook, 4,000 people from around the world took a virtual tour, including many school groups.
Cook said the Ontario Heritage Trust continues to work closely with the Lambton-Kent District School Board to share the story of Uncle Tom's Cabin and the Underground Railroad with local students.
May 21 marked the official opening at Uncle Tom's Historic Site, and Cook said it was busy with visitors attending from as far away as California and South Carolina.
Employees at the site are gearing up for the special events in 2022 with the commemoration of Emancipation Day marking the abolishment of slavery in the British Empire to be held July 30.
For the first time, Cook said the in-person event will also be live streamed to visitors around the world.
Along with Cook and Renaud, staffing at the site this year includes museum interpreter Matt Sawabi.
Cook said the site is currently looking for a second student museum interpreter for this season and administration is now taking applications.