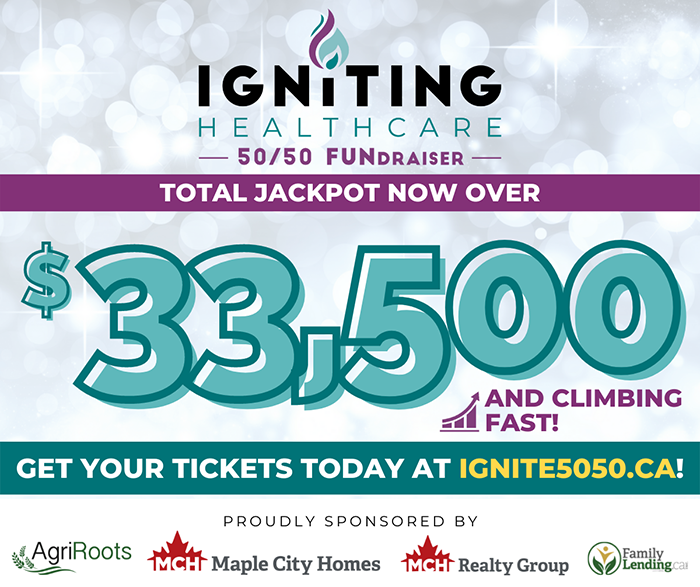 The Chatham-Kent Health Alliance Foundation's popular Igniting 50/50 FUNdraiser is in full swing.
In 2021, the campaign raised $262,520 with lifelong friends Rick De Marse, Paul Ballay and James Desjardins splitting a $131,260 jackpot.
It was the third straight year the 50/50 draw awarded a jackpot in excess of $100,000.
Proceeds from this year's event will be funnelled toward the purchase of two Pulmonary Function Test (PFT) units.
One will be located at the CKHA's Chatham site, the other will be located at the Wallaceburg site.
Foundation board chairman Bob Hockney said the PFT machines are "crucial" in diagnosing a wide variety of respiratory and other health problems.
"While someone is sure to win a life-changing amount of money through this fundraiser, there will be many more winners among the patients at CKHA's Chatham and Wallaceburg sites," Hockney said in a media statement.
The MCH family of companies, which includes Maple City Homes, MCH Realty Group, AgriRoots Capital Management Inc., and Family Lending.ca Inc, is partnering with the Foundation as sponsor of the fundraiser for the fourth consecutive year.
"We have been a sponsor of the Igniting Health Care 50/50 FUNdraiser since the very beginning and we are thrilled to partner with the Foundation once again," said Robb Nelson, founder and CEO of Maple City Homes.
"We can't wait to see how our amazing community comes out to support local health care in 2022," he added.
CKHAF CEO and president Mary Lou Crowley said the campaign has become "an annual tradition," adding it has received support from the community from day one.
"If we spark our community's interest, there's no limit to how high the jackpot can grow," Crowley said.
Expect to see tickets being sold around Chatham-Kent at various locations. Tickets can also be purchased in-person at the Foundation office at 9 Ursuline Ave. in Chatham.
They can also be purchased online at www.ignite5050.ca.
Updates on the draw can be found on the Foundation's social media pages, including where tickets are currently being sold.
This year's draw will take place on July 13 at 1 p.m.