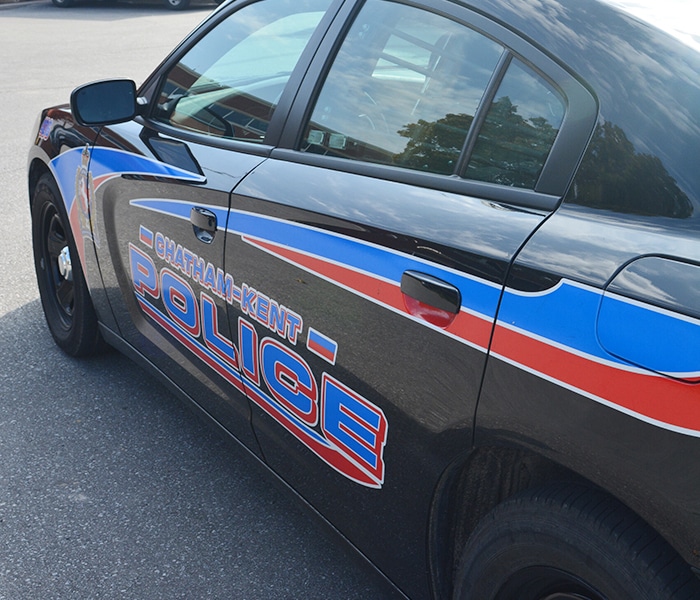 Train clips vehicle, disrupts traffic in Chatham
An afternoon collision between a train and a vehicle in Chatham on Wednesday all but cut the east portion of Chatham in half.
Police say emergency crews got the call shortly before 4 p.m. of the mishap on Colborne Street.
The collision left the train parked for several hours. As a result, CP railway crossings on Colborne Street, on King Street East, Adelaide Street and William Street had elements of the train across them, closing those streets at these points to vehicular and pedestrian traffic.
The roads were cut off for more than three hours.
No one was injured in the collision.
The driver of the truck, a 43-year-old Chatham man, was issued a Provincial Offences Notice for disobeying a rail-crossing signal.
The matter was passed onto the Canadian Pacific Railway Police for future investigation.
Drug trafficking charges
A Tuesday afternoon traffic stop in Wallaceburg led to a slew of charges for a local man.
Police say the stop took place about 2:30 p.m. on Murray Street. The driver's day began to unravel when officers say he did not possess a valid driver's license. Through investigation, it was also learned the man was bond by four court orders prohibiting him from operating a motor vehicle, police say.
The man was arrested and charged with one count of failing to comply with a release order and four counts of operating a motor vehicle while prohibited.
Upon arrest, police found the man was in possession of suspected cocaine, psilocybin, scales, and a substantial amount of Canadian currency.
He was also charged with two counts of possession of a controlled substance for the purpose of trafficking.
A 41-year-old Wallaceburg man was transported to police headquarters and held for a bail hearing.
Drunk in public
Shortly after 10:30 p.m. Tuesday night, police responded to a disturbance on Charteris Street in Chatham.
Upon arrival, police found a female who appeared to be intoxicated and unable to care for herself.
A 32-year-old Tilbury woman was arrested for being intoxicated in a public place. She was transported to police headquarters and held until she was sober.