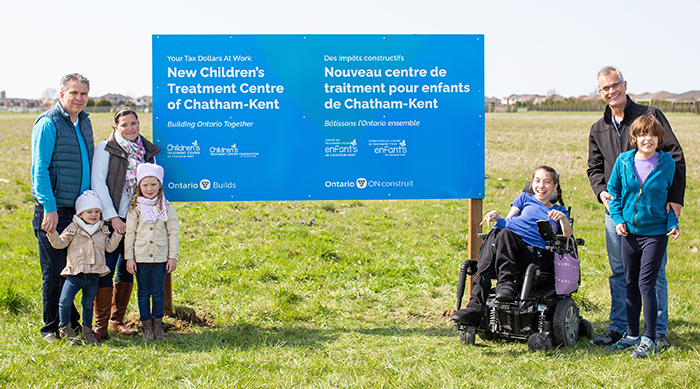 Skyrocketing construction prices have led to the Children's Treatment Centre (CTC) of Chatham-Kent coming back to municipal council asking for more money tonight.
Officials with the fundraising arm of the CTC, the foundation, said the new 55,000-square-foot building, earmarked to be built on McNaughton Avenue West in Chatham, initially came with a construction price tag of an estimated $28.4 million dollars.
When the Foundation of the CTC came to municipal council in 2017, it asked for, and received, a grant of $1.5 million.
Fast forward to present day, and the estimated completion cost of the facility is now at $48 million. The provincial government has pledged to build the facility, but the Foundation now must find additional funding.
Mike Genge, executive director of the Foundation of the CTC, said, more than $6 million of an initial $6.9-million target has been raised, but now there is the need for an another $3 million to be utilized to help ensure sustainability.
This has the Foundation asking for another $1.5 million from the municipality, plus a $1-million loan.
Genge admitted he is frustrated.
"I have no idea what this is eventually going to cost to build, but the province said they'd fund the 55,000-sq.-ft. building. But they want $10 million out of us right now," he said. "I don't even know if there is another $3 million out there. We've tapped a lot of people."
What the CTC is offering in return to the municipality is their existing building and the property on Lark Street in Chatham. Genge said it's been recently appraised at $2.5 million.
"The building is in great shape. It could be repurposed," he said. "We're maintaining everything."
By offering the building, Genge said this is more of a business deal than a request for a grant.
"They're essentially giving me a $1 million loan and $1.5 million more. For that, we're giving them a $2.5-million building," he said.
Furthermore, Genge said all the funds would be spent right here in Chatham-Kent to build the new facility, which will help local families.
An estimated one-in-five C-K children are helped by CTC programs.
Administration had recommended council approve the request. The funds were to come out of strategic reserves. Council was to decide on the matter at Monday's meeting.
Meanwhile, the McNaughton Avenue site is undergoing preparations to begin construction. Due diligence work, including soil studies, drainage, and best building orientation on site is underway to guide future building designs.