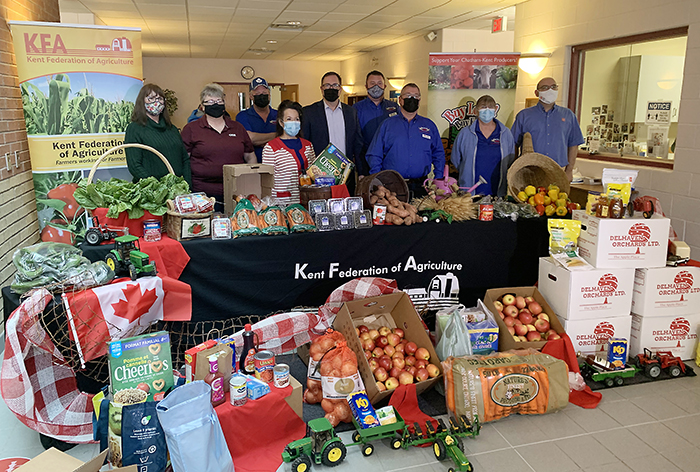 Boxes and baskets overflowed with food recently as part of the celebration of Canada's Agriculture Day.
Members of the Kent Federation of Agriculture (KFA) co-ordinated local food donations to the Salvation Army and Outreach for Hunger in Chatham-Kent on Feb. 22.
Mary Anne Udvari, spokesperson for the KFA, said the annual event is a celebration and support opportunity.
"It's a day when we appreciate everything agriculture and farmers and farming do for us," she said, adding organizations and individuals also brought items to donate to the food banks in Chatham.
Participants dropped off fresh fruit and vegetables, as well as non-perishables.
"The outpouring of generosity of this community is outstanding every single year," Udvari said. "We also use some of the monetary donations to provide ground pork. It's an opportunity to provide protein."
Brenda LeClair of Outreach for Hunger said the donations are greatly appreciated.
"Having fresh produce is such a treat for our families. We all know the cost of food is going up constantly at the grocery stores. To have this available to them is a real treat," she said.
But LeClair said celebrating Agriculture Day is more than just receiving the donated items.
"This also gets the word out and gets the community aware the need is great," she said. "And without agriculture, we wouldn't have anything."
The KFA used to celebrate Food Freedom Day, the day where the average Canadian family has earned enough money to pay for their groceries for the year. But Udvari said that day is constantly moving.
"We know exactly where Canada's Agriculture Day is and can work around that," she said.
Food Freedom Day for 2022 took place Feb. 8 this year.