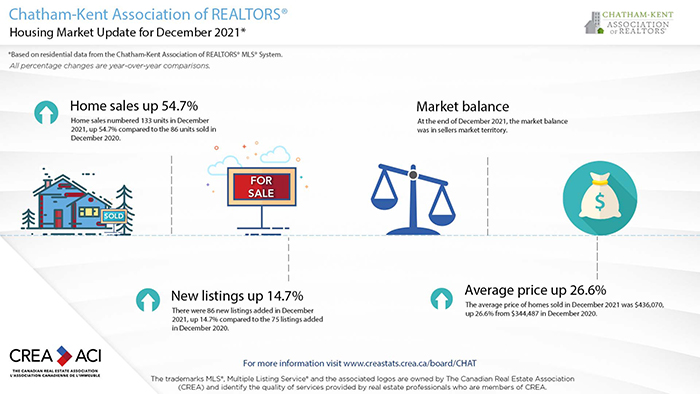 Home sales remained on fire in Chatham-Kent in December, and the president of the local realtors' association said she doesn't see things slowing down any time soon.
Amber Pinsonneault, president of the Chatham-Kent Association of Realtors (CKAR) and broker of record at Royal LePage Peifer Realty, said the demand is far outstripping the supply of homes still.
"It's just the way real estate's been going for the last year and a half," she said of the brisk sales and rising prices. "I think I stopped being surprised half a year ago. Everyone should be too. The general public is expecting things to go backwards, but it will never go back to where it was."
In December, 133 units changed hands through CKAR reps. That's up nearly 58 per cent from December of 2020 and set a new sales record for the final month of the calendar year.
In the past, December has been a cool month in terms of home sales, but recent years have changed all that. Home sales this past December were nearly 58 per cent above the five-year average and 84 per cent above the 10-year average.
It finished a red-hot year for home sales in Chatham-Kent. A total of 1,839 homes and condominiums changed hands in 2020, up 35 per cent from 2020.
Pinsonneault said the pace of sales is driven by outside investment, adding the vast majority of that is being done by people moving here, and not people speculating on property values.
"We have so many people relocating here. The demand is so much higher," she said. "It won't balance itself out until we see a change there."
But, with more and more people becoming aware of the still-attractive property prices here, combined with the great quality of life, outsiders will continue to seek out Chatham-Kent as their next place to live.
"People can work from home now too. That changes things. Purchasing a home and being able to work from home is the new reality for a lot of us," she said, making C-K more enticing to people living in the expensive GTA who have the capability to work from anywhere.
In amongst the movers are the speculators. Pinsonneault said they are few and far between.
"You do have people purchasing here and not living here," she said. "I think that number is greater in the public's eye than what we are seeing. A lot of people are actually relocating here to retire or work."
She said the low number of speculators means there is no so-called real estate bubble here. Such bubbles can burst when interest rates rise or the economy turns south.
Strong interest in home buying makes it a seller's dream, but a buyer's nightmare. Pinsonneault said bidding wars are a regular part of the local home-buying landscape.
"There are multiple offers basically on everything. Houses typically are going over the asking price. It's just the way of our market," she said. "Anything under $600,000, you are typically seeing it selling for over asking price and with multiple offers."
Meanwhile, inventory continues to rebound, as a greater number of homes are coming on the market, but the hot sales activity is depleting those levels.
The number of new listings saw a gain of 14.7 per cent (11 listings) from December 2020. There were 86 new residential listings in December 2021.
New listings were 16.8 per cent above the five-year average and 10.1 per cent above the 10-year average for the month of December.
"Even though the number of newly listed properties was above average for this time of year, it was still not enough to keep pace with the unrelenting demand we have been experiencing," Pinsonneault said. "Consequently, overall inventory has dropped to the lowest level on record."
That's led to higher prices. The average price of homes sold in December was $436,070, an increase of 26.6 per cent from December 2020.
The more comprehensive annual average price was $419,865, up nearly 35 per cent from all of 2020.
The dollar value of all home sales in December 2021 was $58 million, almost double the same month in 2020. This was also a new record for the month of December.
Pinsonneault said interest rates are creeping higher, which is one way to slow down the housing market. She thinks buyers are largely prepared for that, especially given the uncertainty of the pandemic on the economy.