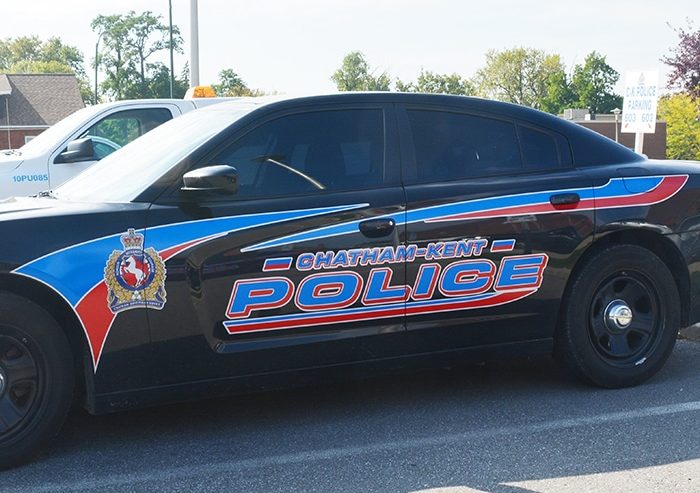 Domestic violence and a BB gun
Yesterday morning, Chatham-Kent police responded to the report of a suspicious man in the area of Grand Avenue West in Chatham, with what appeared to be a gun in his coat.
Officers located the man and found him to be in possession of a BB gun. Through investigation, police learned that the man was also responsible for domestic related offences.
The 24-year-old man, of no fixed address, was arrested and charged with being in possession of a weapon for a dangerous purpose, criminal harassment and two counts of mischief under $5,000.
Fraud charges
In February of 2021, the Chatham-Kent police began a fraud investigation as several child support cheques sent to a woman in Chatham, between June 2020 and August 2020, were stolen and cashed by someone.
Through investigation, police identified the man and woman responsible.
Last night, a 33-year-old Chatham woman was arrested and charged with theft of mail and fraud related offences.
A warrant has been issued for the 36-year-old man, of no fixed address.
Vehicle stolen
Yesterday afternoon around 2:30 p.m. police recovered a stolen grey 2022 Chevrolet Trax from Comber on Port Road between Cox Line and Gray Line in Tilbury East Township.
Around 5 p.m. yesterday, someone stole a burgundy 2009 Ford Edge that was left unattended in the Circle K Convenience parking lot in Tilbury. The vehicle was last seen with Ontario license plates CAPX 239.
Police believe the incidents may be related and are asking for the public's assistance. Anyone who may have seen suspicious activity in the area of Port Road or Queen Street North is asked to contact Const. Scott Nevills at scottn@chatham-kent.ca or 519-436-6600 ext. 87326. Anonymous callers may call Crime Stoppers at 1-800-222-TIPS (8477) and may be eligible for a cash reward.