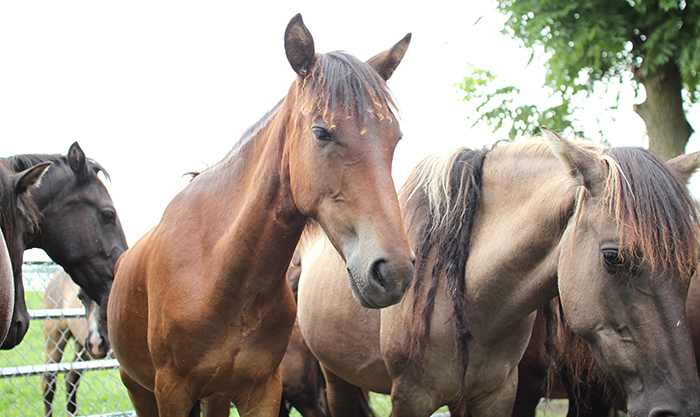 The owners of TJ Stables knew they were on the right path with their dedication to Ojibwa Spirit Horses, and a recent award confirms it.
The stable was recently nominated for three Ontario Tourism Resilience Awards, winning one – the Indigenous Tourism Award for Innovation.
TJ Stables earned the nod for its "Awaken Your Spirit" Ojibwa Spirit Horse encounter.
The experience, launched this June, allows for a chance to learn about First Nations and Metis cultures. It also includes a unique and exclusive opportunity to be with the Ojibwa Spirit Horses.
Terry Jenkins of TJ Stables said the award was encouraging.
"It really validated what we've been doing. COVID had us scrambling and digging us out of a hole. What do we do that's different and unique?" she said. "It just so happens by winning this award it proved we were on the right track."
The Spirit Horses once ran wild across the Great Lakes region. But colonization decimated numbers, to the point there were just four left in 1977.
But conservation efforts have brought them back, and TJ Stables is home to a growing herd of the ponies.
They offer a chance to walk among the ponies and an immersive experience with the animals, land and Metis history.
TJ Stables offers riding programs for kids and adults, as well as its Acceptional Rider program, which is a charitable therapeutic riding program for children and adults with disabilities.
The program has been running for nearly 30 years.
When COVID-19 struck, along with the pandemic restrictions that followed, TJ Stables suffered. It closed to the public for months and had to sell off a number of its horses to remain solvent.
At one point, Jenkins and her husband, John Basden contemplated retiring.
Thanks to community support, they were able to stay in business.
It's that community aid that kept Jenkins and Basden going.
"Support from the community has been amazing. They donated to help us feed our remaining horses until we could get going again," Jenkins said. "With that support, John and I looked at each other and said, 'We've got to keep doing this.'"
Instead of retiring, they are now looking to increase their herd, as well as diversify the visiting options at the stables.
"We'd like to expand, starting with overnight teepee stays. We have a little cabin in the woods for people to stay in too," Jenkins said.
Filling out the herd again is a challenge. Jenkins said she has to purchase five horses to hopefully find two with the right temperament to work with people.
Despite the challenges, Jenkins is very optimistic.
"We're excited to see what the future holds," she said.
To learn more about what TJ Stables offers, visit tjstables.ca.