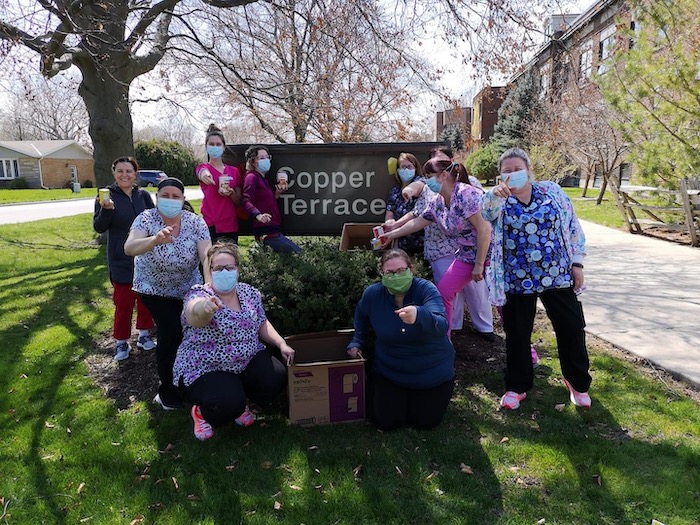 The folks at Copper Terrace are at it again; challenging other seniors' facilities to keep up.
The challenge? Donate funds to Chatham Goodfellows and non-perishables to Outreach for Hunger food bank.
"We ask that all other nursing and retirement homes try to fill as many boxes with non-perishables as they can," Copper Terrace's Darlene Rylett said.
She hopes the effort will help stock the shelves at Outreach and ensure no child goes without a Christmas through Goodfellows.
"I was talking to the Goodfellows. They've been around for years. The support they've given the community is beautiful. I know they are hurting," she said. "We decided to go with our challenge to help them, and picked Outreach for Hunger too.
"These two organizations, they've put so much effort and so much of their time to help the community. They deserve to be recognized and helped."
Rylett said the Copper Terrace Challenge gauntlet has been accepted multiple times already, as Riverview Gardens, Meadow Park, Maple City Retirement Residence and Village on the Thames are on board so far.
The response is appreciated, and not surprising for Rylett.
"We've shown the community we aren't different; we are all the same," she said of the various seniors' facilities in Chatham. "We all become one home in the community. I've met a lot of super people."
This is the second year for the challenge, Rylett said.
"We started this when COVID first came out. It really helped boost the spirits with The Miracle," she said, referring to last spring's food drive that encompassed all of Chatham-Kent.
This year's challenge follows on the heels of an October apartment contest that pitted the two Thames Towers buildings on Grand Avenue West against one another in a friendly food-raiser effort. More than 3,000 pounds of food and $5,000 went to Outreach for Hunger and Salvation Army food banks.
Rylett enjoyed seeing it unfold.
"I loved the Thames Towers Challenge. It was awesome," she said. "You put challenges on and people jump to accept."
The Copper Terrace Challenge runs through to Dec. 1.
Rylett said the Copper Terrace Challenge is not limited to seniors' homes, as anyone can take part. To contact Rylett to learn more, e-mail her at darlenerylett0@gmail.com
As for who will transport all the goods and toys, Rylett said she turned to Handy Bros. for help, and the company immediately accepted.