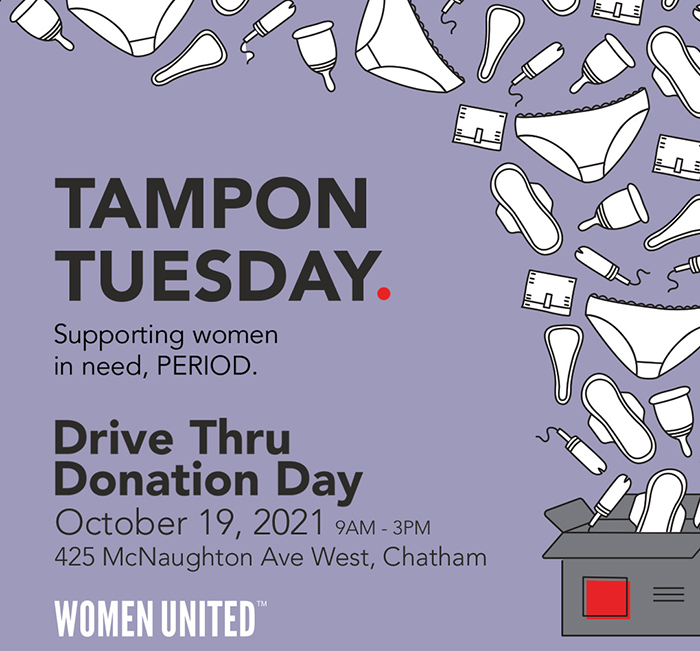 Drive-in donations are encouraged Oct. 19 as part of Tampon Tuesday.
Between 9 a.m. and 3 p.m., people can drop off their donations via drive-through at the Chatham-Kent Nonprofit Centre at 425 McNaughton Ave. W. in Chatham.
Organizers say the event is drive-through to ensure social distancing requirements are met during the pandemic.
The United Way of Chatham-Kent (UWoCK) wishes to again collect sanitary pads and tampons to help those in need in Chatham-Kent. Officials said the women's products are some of the most requested, but under donated items at food banks and outreach programs throughout the community.
Tampon Tuesday is designed to bring the community together to meet the need while addressing period poverty, supporting women's and girls' health while tackling the stigma.
"Sometimes, the most basic needs are the hardest to meet," Tampon Tuesday event co-ordinator Margery Muharrem said in a media release. "For women and girls living in poverty, each month often brings a tough choice – does she buy a box of tampons, or does she skip a meal? No one should have to face that kind of choice or feel shame. By donating to Tampon Tuesday, you're ensuring equality and dignity for your neighbours."
All donations are welcome – pads, tampons, and menstrual cups, as well as other items such as shampoo and soap. Financial donations and gift cards are also accepted.
As well, bright pink donation bins are also located throughout the municipality – donations can be left there as well.
"Last year, despite a global pandemic, we were astounded by the deep generosity and caring shown by every person who drove up and dropped off a donation," Patricia Peters, acting CEO of the UWoCK. "There was a mountain of product that we divided up and distributed to organizations and programs throughout Chatham-Kent."
Comments
comments