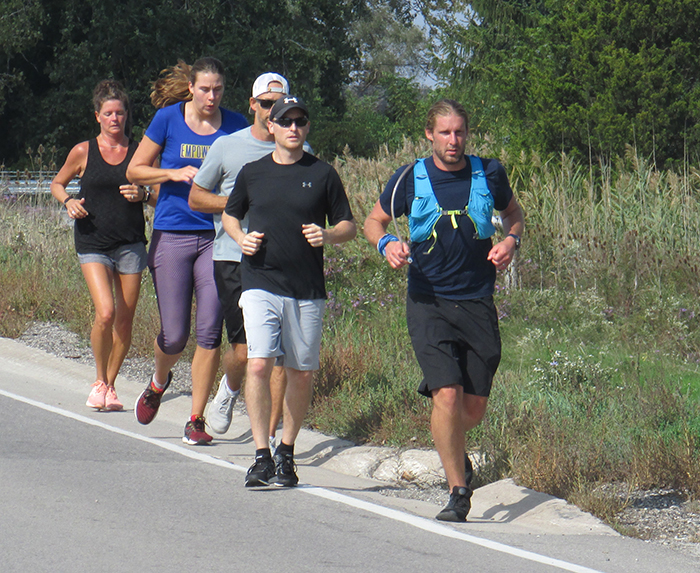 The formula looks simple: 1 man + 100 kilometres = $111,000.
But it is much more complex than that.
Rather than scribble the formula on a blackboard, Kevin Owen, a member of the board of the Children's Treatment Centre Foundation of Chatham-Kent, let his feet do the math on Thursday, running an ultra marathon to raise funds for the foundation.
The event, called Shore to Shore, saw Owen run an ultra marathon, running 100 kilometres from Mitchell's Bay to Erieau, taking a roundabout route through communities such as Wallaceburg, Dresden, Kent Bridge, Chatham and Blenheim along the way. He started his run at 3 a.m. and finished 16 hours later.
Reached the morning after the run, Owen told The Chatham Voice his legs felt "a little tired" and he had just had acupuncture performed on them. He took the day off work to spend with his wife, and was in great spirits.
Helping to raise $111,000 can do that.
Owen credited the heavy fund lifting to Mike Genge, president of the treatment centre's foundation.
But Genge pointed right back at Owen.
"He came to me with the idea. He wanted to get involved with raising money. He said, 'What do you think of the idea of an ultra-marathon?' I said, 'What is an ultra marathon,'" Genge said. "The best part is, because of Kevin's background in the building industry, so many people he knows through the trades or through builders came on board."
Owen said the community showed up with their cheque books.
"Typically, running is not a big money maker. It's not an event where people are gathering. There's not really an opportunity to advertise anything," he said. "I feel like we have something special here. In Chatham-Kent, we have a lot of amazing people. Some guys were already writing the cheque as if I didn't even have to ask. They just want to help the community."
In regard to the running itself, Owen said he set a personal goal to complete the circuit in 15 hours, and did it in 16, but he's very happy with the result.
"The running and my personal goal had nothing to do with the real goal, which was to raise money for the kids."
As for doing it again, Owen said it's a little premature to tell if he'll take it on again, but admitted it would be fun to try and thinks others could join.
"There are a couple of guys in town who can run ultras. They could do it for sure," he said.
"The money raised today from Kevin's run will go towards our social work program, our recreational program and music therapy program," Genge said.
Not all services at the Children's Treatment Centre are covered by government funding. Programs such as social work, therapeutic recreation services, and music therapy, for example, are funded by the centre.