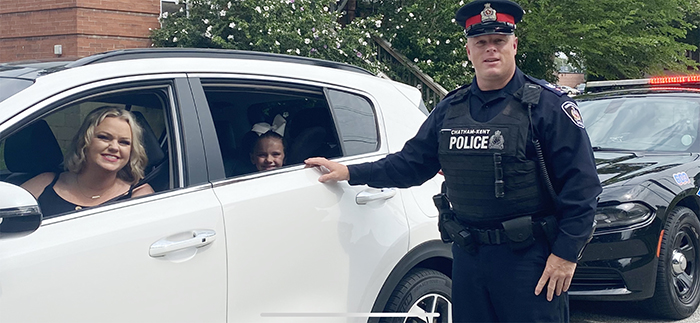 Sgt. Pilbeam gives back
Make all the jokes you want about police officers and coffee and donuts, but when it came time for Sgt. Albert Pilbeam to retire, he gave back to the community in exactly that fashion.
Pilbeam, who retired Friday as a member of the Chatham-Kent Police Service, said he asked to go back on the road for his final two shifts. He had a singular focus: pull over the public.
And Pilbeam was specially armed for the encounters…with Tim Horton's gift cards.
The 22-year veteran, who headed up the training and professional development unit for about four and a half years, wanted to retire where he started, in a cruiser serving the people of Chatham-Kent.
It was a form of closure for the officer.
"The weeks leading up to this, I did the best I could to reach out to everyone I worked with in the organization to express gratitude and to say goodbye," he said.
Then it was time to take that gratitude to the streets.
"I have all this attachment to this great community and I was trying to think of a unique way to say goodbye," he explained. "I tried to pull some people over for minor infractions, and then I wanted to immediately put them at ease. I offered them a gift card and told them it was my true honour to serve them in this manner."
It was well received.
Jessica Miller was one of Pilbeam's "victims," getting pulled over and thanked.
"I got pulled over today. I haven't been pulled over in 14 years. I was shaking, thinking what in the heck was I doing wrong," she wrote on social media. "So, the officer walks up, sees my license in my hand, and tells me to put my license away…then, continues to tell me that today is his very last day. He's retiring! He handed me a Timmy's gift card and said it's been an honour to serve the community! My heart melted! We thanked him for his service and wished him the best of luck in his retirement! What a good guy!"
Pilbeam said some people even wanted to get out of their vehicles to give him a hug, but refrained due to the COVID-19 pandemic.
He downplayed all the attention.
"This was just from the heart and was a small token of thanks," he said.
Prior to becoming a police officer, Pilbeam worked for seven years with the Public Utilities Commission. But he felt a pull to help others.
"I've always had a strong attachment to this community. I always felt the need to protect what we have here," he said.
As for what the future holds, Pilbeam said he has no definitive plans.
"I want to digest all of this and reflect. I'll ease into this next chapter," he said.
Comments
comments