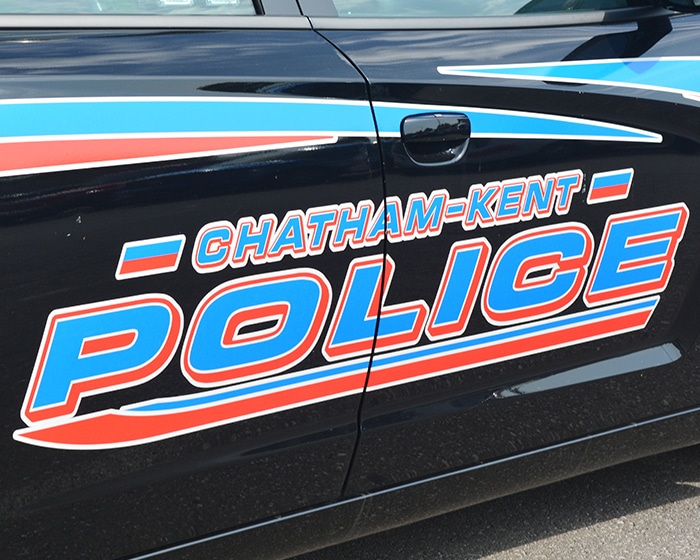 Family dispute leads to charges
Yesterday morning, Chatham-Kent police responded to a family dispute in Blenheim.
Through investigation, police learned that the man assaulted a family member in the home while uttering threats and damaging a telephone.
The 61-year-old victim was transported to the Chatham-Kent Health Alliance via ambulance for medical attention.
The man fled prior to police arrival, however he was located yesterday afternoon and taken into custody.
A 31-year-old man has been charged with aggravated assault, mischief and uttering threats. He has been held in custody pending a bail hearing.
Stolen plates
Last night, an officer on general patrol in Chatham observed a vehicle travelling on Grand Avenue West with license plates that were previously reported stolen.
A traffic stop was initiated on Sarah Crescent and the driver was arrested.
A 24-year-old Chatham woman is charged with possession of stolen property.
The stolen license plates were seized from the vehicle.
Drunk in public
Last night, police responded to a disturbance on Wellington Street East in Chatham.
Through investigation, police located an intoxicated man outside the residence who was unable to care for himself.
For his own safety, the man was taken into custody and transported to police headquarters.
A 58-year-old man was charged with being intoxicated in a public place and released this morning when sober.
Stolen vehicle
Sometime between Saturday at 9 p.m. and Sunday at 9:45 a.m., someone stole a black 2015 Mitsubishi Lancer from a residence on Forest Street.
The vehicle was last seen with Ontario license plates BTBH 771.
Anyone with information is asked to contact Const. Curtis Conn at curtisc@chatham-kent.ca or 519-436-6600 ext. 87349. Anonymous callers may call Crime Stoppers at 1-800-222-TIPS (8477) and may be eligible for a cash reward.