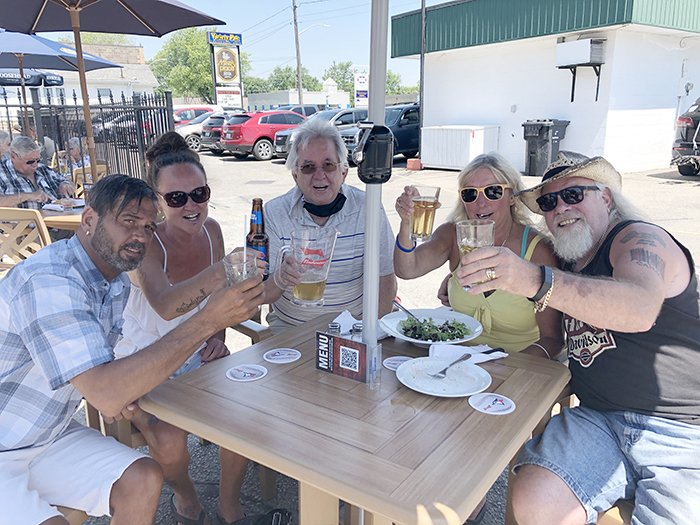 By Pam Wright
Local Journalism Initiative Reporter
Because Ontario rolled up its collective sleeve, the province is taking a giant step towards normal.
Beginning July 16, Ontario will move into the third phase of its Roadmap to Reopen, meaning people will once again be able to go to a movie, sing along at a concert, and dine indoors at their favourite restaurant.
Chatham-Kent Mayor Darrin Canniff called the announcement exciting news.
"I'm really looking forward to it," Canniff said Friday afternoon. "Let's get it done and get back to a reasonable state of normal."
The mayor said the people of Chatham-Kent residents helped earn the early move into Step 3 by taking action and getting the vaccine.
In order to move into Step Three, Ontario needed to have vaccinated 70 to 80 per cent of people over the age of 18 with one dose and at least 25 per cent with two doses.
However, as of July 8, more than 77 per cent of those over the age of 12 have had at least one shot and more than half of the population has been vaccinated with a second dose.
More than 16.6 million COVID-19 shots have been administered across the province.
As of Friday a total of 110,274 doses had been dispensed in Chatham-Kent. Of those, 67,854 were first doses and 44,685 were second doses.
Ontario moved into the second step of its reopening plan on June 30. It was expected to last at least 21 days, but officials are ending the second step after only 16 days.
Step Three includes the resumption of some indoor services and a loosening of the restrictions on out gatherings including:
Outdoor social gatherings and organized public events with up to 100 people with limited exceptions;
Indoor social gatherings and organized public events with up to 25 people:
Indoor religious services, rites or ceremonies, including wedding services and funeral services permitted with physical distancing and other restrictions still in effect;
Indoor sports and recreation fitness facilities to open subject to a maximum of 50 per cent capacity of the indoor space. Capacity for indoor spectators is 50 per cent of the usual capacity, or 1,000 people, whichever is less. Capacity for outdoor spectators is 75 per cent of the usual seating capacity or 15,000 people, whichever is less.
Indoor meetings and event spaces permitted to operate with physical distancing and other restrictions still in effect and capacity limited to not exceed 50 per cent or 1,000 people (whichever is less.)
Essential and non-essential retails with capacity limited to the number of people that can maintain a two-metre distance.
Personal care services, including services that require the removal of a face covering and also maintaining a two-metre distance.
Museums, zoos, galleries, historic sites, casinos and bingo halls, amusement parks and fairs are among the facilities being reopened. The capacity is 50 per cent or a maximum limit of 1,000 people, whichever is less. Outdoor events are set at 75 per cent capacity or a maximum of 5,000 people for unseated events, or a maximum of $15,000 or 75 per cent capacity with events with fixed seating.
Real estate open houses can resume as long as people physically distance.
Indoor food or drink establishments where dancing is allowed, including nightclubs, are permitted up to 25 per cent capacity or up to a maximum of 250 people.
Face coverings are still required in indoor settings and will remain in place for the remainder of Step Three.