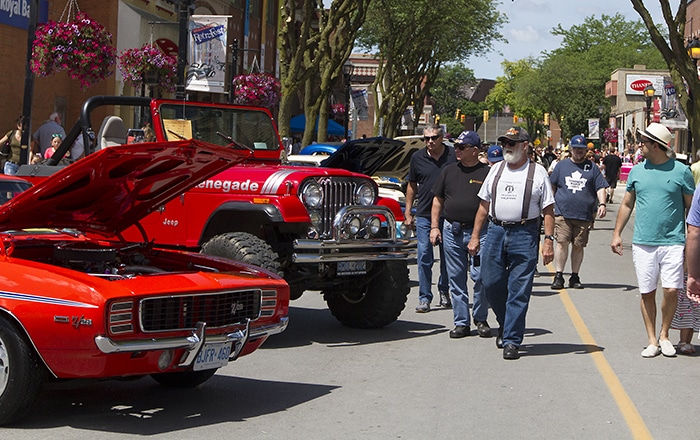 Classic cars will hit the smaller screens this weekend, as the 2021 RetroFest takes place virtually.
After a year's hiatus due to the COVID-19 pandemic, organizers brought the event back this year, but not in its past format. With restrictions still in place preventing large-scale gatherings, RetroFest will take place over the computer.
Connie Beneteau of the Historic Downtown Chatham BIA, said elements will be live-streamed Friday evening and Saturday.
"On Friday night, at an undisclosed location, there will be live performances by bands on stage," she said. "We'll have Miss RetroFest contestants coming up on stage as well, along with some guest speakers."
Several cameras will broadcast pre-selected cars as they drive by.
"You can sit on your couch and watch the cruise," Beneteau said. "They'll be driving past the cameras we have set up."
On Saturday, between 11 a.m. and 2 p.m., the virtual experience continues. Beneteau said they will air a mix of content featuring some of the RetroFest entrants and their vehicles, along with live performances and at the end of the event, they'll virtually hand out the hardware, presenting a selection of choice awards to participants.
There are about 190 cars entered this year for RetroFest, all listed at https://www.facebook.com/Retrofest.
She said the events will be "upbeat and moving," shifting from cars, to live music to the host and over to Miss RetroFest contestants and more.
"We're going to keep it hopping," Beneteau said.
Normally, RetroFest turns downtown Chatham into one huge car show, bringing thousands of people downtown. With pandemic restrictions, the local merchants will not benefit from that amount of increased foot traffic this time around. Beneteau said the event will link in the stores.
"We are trying our best to tie in our businesses. We had the Miss RetroFest contestants do two businesses each. They had conversations with the owners. Those will be played during the virtual events," she said.
As well, there are contests underway downtown. Beneteau encourages anyone shopping downtown to take a selfie outside the business and enter the contest on the BIA's website.
For more details on the contest and RetroFest, visit http://downtownchatham.com/.