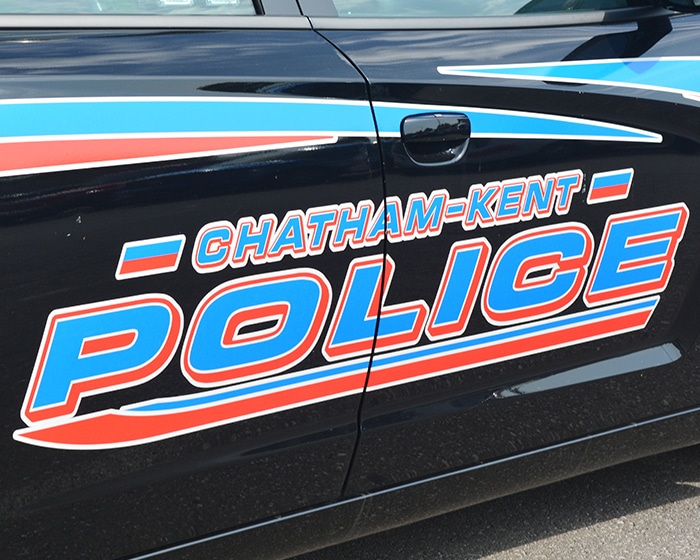 Dog stolen, woman assaulted
A man faces a slew of charges following a domestic dispute the turned violent last night.
Shortly after 11:30 p.m. Monday night, Chatham-Kent police responded to a domestic-related incident at a residence in Chatham.
Through investigation, police learned that the man attended his ex-girlfriend's home and began knocking on the door. When the woman refused to allow him into her home, he broke the door, causing about $1,000 damage and entered. Once inside, the man cornered the woman in her bedroom and assaulted her, police say. Upon leaving, the man grabbed the woman's dog and fled.
Officers located the man a short time later at a local motel and he was arrested. The stolen dog was returned to the woman.
A 24-year-old man of no fixed address has been charged with break and enter, assault, forcible confinement, theft under $5,000 and being in possession of property obtained by a crime under $5,000. He has been held in custody pending a bail hearing.
No injuries in crash
Around 12:30 a.m. this morning, police responded to a single motor vehicle on Chatham Street South between Marlborough Street and Regent Street in Blenheim.
Through investigation, police learned that the driver lost control of his vehicle, left the roadway and struck a sign. No one was injured. Total damage was estimated at $20,000.
The driver, a 34-year-old Mississauga man, is charged with careless driving.
Truck stolen
Sometime last night between 9 p.m. and 10 p.m. someone stole a red 2019 Chevrolet Silverado pick-up truck from the parking lot at the Real Canadian Superstore in Chatham. The truck was last seen with Ontario license plates BB 60381.
Anyone with information is asked to contact Const. Danica Quenneville at danicaq@chatham-kent.ca or 519-436-6600 ext. 87312. Anonymous callers may call Crime Stoppers at 1-800-222-TIPS (8477) and may be eligible for a cash reward.