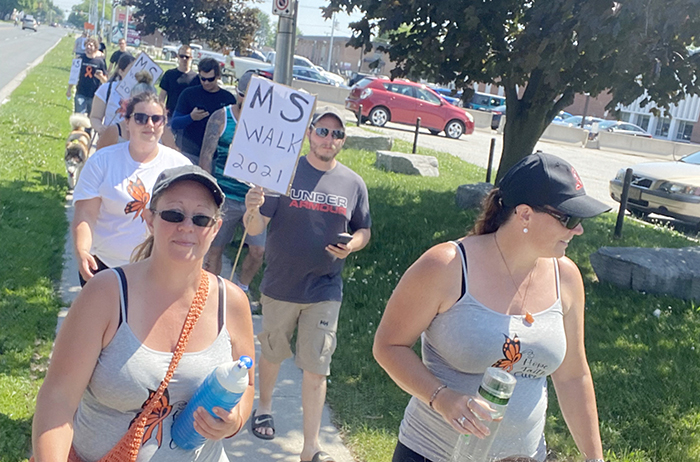 Chatham's Amanda Ramsden has Multiple Sclerosis. She's had it for 10 years. Yet she's only 26.
Ramsden is a fighter, however, and her latest scrap came in the form of fundraising for the MS Society recently, bringing 17 friends and family on a walk down Grand Avenue in Chatham, raising more than $2,300 in the process.
Her target of $1,500 is well in her rearview mirror.
Ramsden said she first received the news she had MS when she was just 15. The illness usually strikes people a decade or two older.
"Normally, it's in your 30s (when a person is diagnosed). I'm just lucky, I guess," she joked. "But I started my medication when I was 16. I've been on it this whole time."
With MS, the immune system attacks the sheath that surrounds nerve fibres in the body. This causes scarring, or sclerosis. That scarring hinders the flow of electrical pulses from the brain to the target nerve.
Ramdsen said her MS has been in remission for the past seven years.
"It's been good. I consider myself lucky. I don't have a whole lot of symptoms," she said. "My biggest issue is dizziness."
After the walk, she admitted to feeling a bit light-headed by the end of the walk, which took place from St. Clair Street to the A&W parking lot on Grand Avenue West.
"Being out in the heat forces my body down. There was some slight numbness too," she said.
Ramsden said this is her first year participating in the MS Walk. She had considered doing it in past years, but had other issues get in the way.
She's glad she found the time this year.
"I had friends and family who wanted to do it with me. It was awesome. We had about 18 people walking. We paired off in groups of two and maintained social distancing. It worked out really well."
Ramsden said passing vehicles honked in support, and pedestrians passing by offered positives words as well.
Ramsden wants to take part in the walk again.
"We are hoping to go at it again next year, hopefully raise more too. We had quite a few people who couldn't take part in the walk and fundraising this year. I hope we can get more people on board next year," she said.