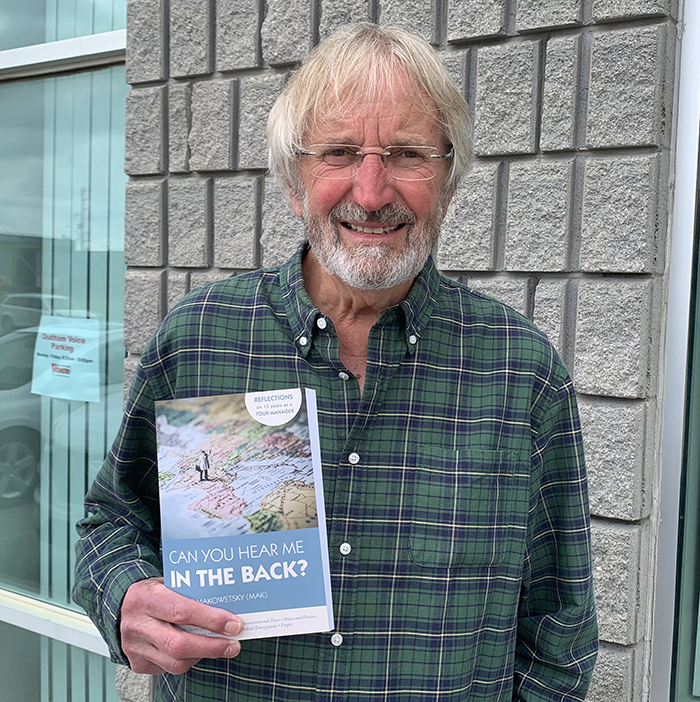 When you retire, retire again, and retire a third time, after that, you become an author, right?
Well, for Chatham's Dennis Makowetski, that's how it's worked for him.
It took the COVID-19 pandemic to turn the retired teacher into an author. He penned "Can You Hear Me in the Back?" a compilation book on his interesting experiences as an international travel tour guide.
But, as mentioned, tour guide wasn't Makowetski's first career. Or second. For 31 years, he taught at Chatham Collegiate Institute and Lambton Kent Composite School. He retired, for the first time, but went on to teach internationally. He spent a year in England, followed by more than three years teaching in Italy.
And then he retired again…only to become a travel tour guide with Ellison Travel & Tours out of Exeter, Ont.
For 15 years, Makowetski took people of all ages on tours of all kinds, mostly to Europe. He led a few tours in Turkey, and another one in southern Africa.
And then the pandemic came along. Early on, he decided to write a book about his experiences abroad.
"I had a lot of time, along with everybody else," he said. "It was my COVID project, along with walking and growing a beard."
Makowetski said he never went into the tours with the idea of writing a book, but the material was there after leading 57 international tours over a 15-year period.
"I didn't plan on doing anything like this, but when I got home from the tours, it was my job to write a report," he said. "After the first tour, I realized if I didn't make notes, one day blended into the next. I got into the habit to make notes after every day, and I hung onto those notes."
Nearly half of the tours were for students, and were usually cultural in nature. The remainder were adult tours.
Makowetski stressed some of the problems that he encountered over the years were generally not the norm.
"Most of the tours were so well planned by the company that they went off beautifully," he said.
The chapters are divided according to themes.
One is on a real danger to travellers, theft. And it happened to Makowetski just two days into a big tour. Someone stole his travel satchel, which contained his passport, as well as money to pay for access to various sites and events.
"The chapter covers everything from pickpocketing to passport theft. For me, the second day of a tour I lost my bag with everything in it. It had all the tour material in it and my passport," he said.
He said elements of the book are about problem solving, including when his bag was stolen.
"What to do when you don't have a passport and your money, and you are in charge of 50 people? I had to get a police report to prove my documents were stolen," he said. "Trying to get the money to pay for tour stuff along the way? I had photocopies of my ID and passport, but that's no good to get money wire transferred to you. I had to wire it to a friend."
Makowetski said a good number of the tours were to sites of old battlefields. He dedicated a chapter to these stories.
He recalled taking a 96-year-old woman to the grave of her husband, who was killed in 1943 during the Second World War.
"She'd never been there before," Makowetski said.
In another instance, he led a 98-year-old veteran to the site of a particularly difficult confrontation where an explosion claimed the lives of 16 of his regiment friends.
There's a chapter in there on medical emergencies that one can encounter on tours, from sprained ankles to late night trips to aid stations, and even a death on a tour.
He recalled taking a tour member to an infirmary in Zambia in the middle of the night.
"We get the clerk at the hotel to get us a van, we pick up an armed guard and we head to the infirmary. I don't know if the guard was for the van or for us," he said.
Makowetski said other chapters focus on hotels – "from the terrible to the delightful" – to airline adventures, and a chapter on the people he encountered over the years.
"It's about the folks I met on the way. Some were just fascinating," he said.
Makowetski said shifting gears from teacher to tour guide was quite easy for him.
"It's a tie between teaching and guiding. It really is the same thing, without the onerous part of grading papers," he joked.
"Can You Hear Me in the Back? Reflections on 15 Years as a Tour Manager" is available on Amazon.ca or from Makowetski himself. Contact him either by phone or e-mail at 519-355-7674 or beejnmak@gmail.com to order.
He said the original plan was to have it available in local stores, but the pandemic has not made that an option at this point.