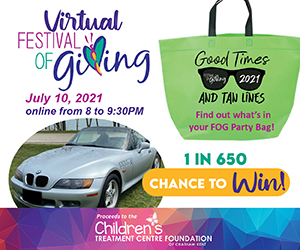 It's time for some tan lines and good times in Chatham-Kent.
Tickets for the annual Festival of Giving are now on sale.
The Children's Treatment Centre Foundation of Chatham-Kent went live with the sale of tickets to the July 10 event as of Monday morning.
Tickets are $175 each.
This year's theme is Good Times and Tan Lines.
With restrictions on social gatherings put in place because of the COVID-19 pandemic, the CTC Foundation is planning for a virtual event, while still raising important funds needed for the Children's Treatment Centre.
Tickets include $100 tax receipt, $75 worth of certificates to use locally and a chance to win a BMW Z3 Roadster.
Silent auction items will be available to bid on the week prior to the event and live auction items will be up for bids on the evening of the event.
Guests are invited to enjoy an evening of entertainment and fun, all from the comfort of their home.
Support from the community for the Children's Treatment Centre and Foundation will help ensure that the Centre can continue providing specialized care and therapy to the children in Chatham-Kent, so that children of all abilities can reach their full potential, according to foundation officials.
For more information, visit the event web page www.festivalofgivingck.com or Facebook page.
Last year, the Festival of Giving got pushed back into October from its regular April slotting, and was also a virtual event.
The event raised more than $177,000.