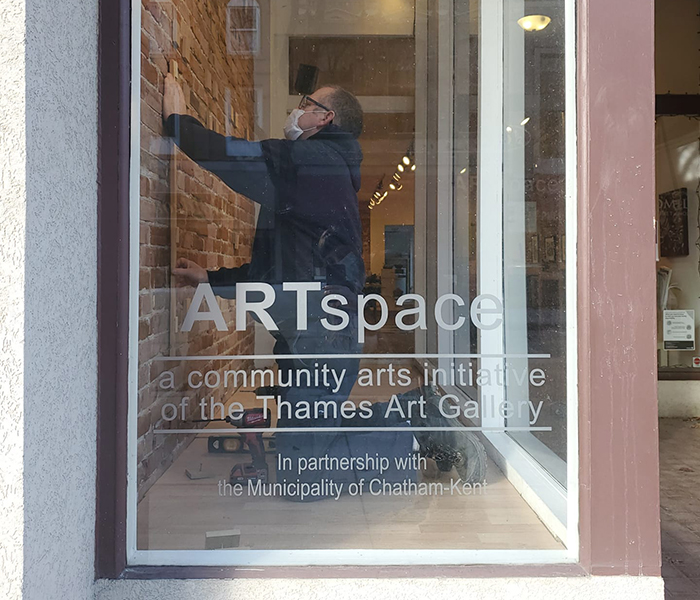 ARTspace is showing off the latest project by Francois Grenier, Isabelle Milot and Lisa Sylvestre, three artists known as the "FIL Collective," so named for the close bond amongst the artists.
Their new installation at ARTspace is focused on their latest explorations in their disparate practices. "FIL Collective" is on public display at ARTspace's Window Gallery and can be viewed from King Street between May 7 and June 18.
Grenier is a ceramic sculpture artist. His installation "Cornu Deficientia" is intended as a visual manifestation of frustration and resentment towards society's recklessness in ecology. In this work, the horn is the metaphor for this emotional unrest; Grenier was struck by how the hollow horn recalled a cornucopia, and the irony of these opposing images became the centrepiece of his work.
Milot's work in this installation is an ode to Lucie Rie, a pioneer of modernist pottery. Milot is entranced with the surface of Rie's pottery, which is technically challenging to replicate; like Rie, Milot applies different minerals, chemicals, and oxides to the surface of her pottery to produce a diverse range of textures when they are kiln fired.
Sylvestre, a textile artist, explores the architecture of Windsor and Detroit through her work. With the layering of fabric and needlework to create depth, Sylvestre depicts buildings, city planning and street grids. One of her works references the Walker Power building on the riverfront in Walkerville, Windsor. When this historic building was recently renovated, Sylvestre was compelled by the view through the Walker Power building to the Detroit skyline.
For more information, visit www.chatham-kent.ca/TAG or www.artspacechathamkent.com and follow us @TAGCK and @ARTspaceCK for updates.
ARTspace is located at 165 ½ King St. in Chatham.