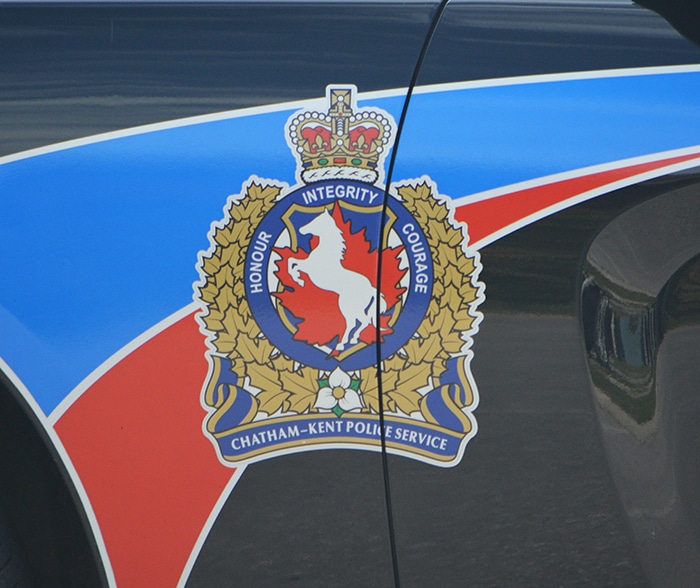 Charges laid in January crash
An Amhersburg woman faces charges, including impaired driving causing bodily harm, in connection with an accident that took place on Wheatley Road back in January.
As previously reported, on Jan. 20, shortly after 6 p.m., Chatham-Kent emergency crews responded to a two-vehicle collision on Wheatley Road near Goodreau Line.
A woman driving westbound on Goodreau Line was struck upon entering the intersection by a man driving southbound on Wheatley Road.
The woman sustained serious injuries and was transported to the Chatham-Kent Health Alliance. She was transferred to Windsor for further medical attention.
Her passenger along with the other male driver, were both transported to hospital as a precaution. Total damage has been estimated at $30,000.
Yesterday, A 37-year-old Amherstburg woman was charged with having a blood alcohol concentration exceeding the legal limit, two counts of impaired driving causing bodily harm, disobey stop sign and failing to properly wear a seat belt.
Harassment, threats
On April 24, a man was released from Court with several conditions. One of those conditions stated that he was not to communicate with a specific Dresden woman.
This week, police say the man called the woman on Tuesday and left eight messages. One of the messages was threatening in nature. Yesterday, the man continued calling the woman and left four more messages.
Last night, a 60-year-old Blenheim man was arrested and charged with uttering threats and two counts of failing to comply with his release conditions.
He has been held in custody pending a bail hearing.
Mischief
Yesterday morning, police responded to the report of a man damaging property behind businesses on McNaughton Avenue in Wallaceburg.
Through investigation, police located the man and learned that he had caused about $400 damage to Entegrus water meter boxes.
A 29-year-old man of no fixed address was arrested and charged with mischief under $5,000.
Collision leads to impaired charges
Around 7 p.m. last night, police received information that a vehicle struck a road sign on St. George Street in Dresden and kept going.
Police located the vehicle, and through investigation, the officer suspected the man was driving while under the influence of alcohol.
A roadside breath test was administered and the man failed. He was arrested and transported to police headquarters for further breath tests.
A 75-year-old Dresden man is charged with having a blood alcohol concentration exceeding the legal limit.
Stolen SUV
Sometime Tuesday night or early Wednesday morning, unknown suspect(s) stole a red 2016 Honda SUV from a residence on Summerset Place.
The keys were left in the vehicle and the SUV was last seen with Ontario license plates CEKN 252.
Anyone with information is asked to contact Const. Aric Roy at aricr@chatham-kent.ca or 519-436-6600 ext. 87361. Anonymous callers may call Crime Stoppers at 1-800-222-TIPS (8477) and may be eligible for a cash reward.
Comments
comments