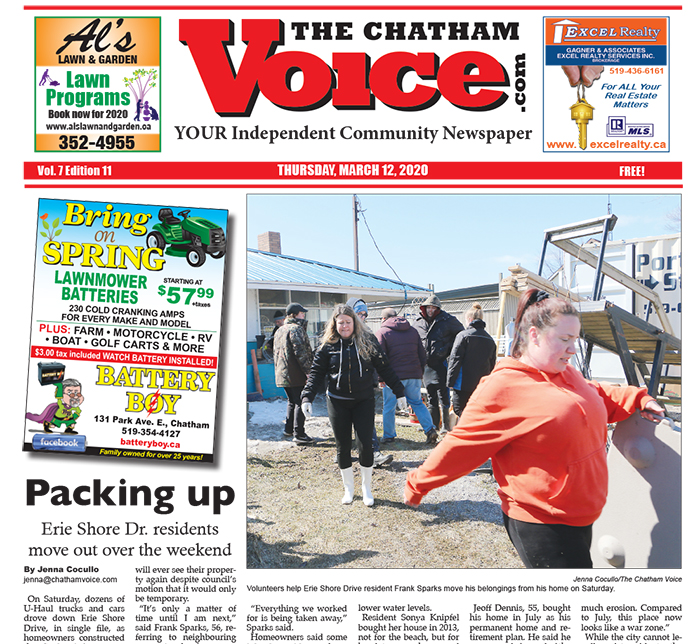 The Chatham Voice has some new hardware to display following the recent Better Newspapers Competition.
The Voice won for best news story for a community newspaper with a circulation over 10,000, and best headline writing.
Former reporter Jenna Cocullo earned the awards. She downplayed her role in winning for best story. Cocullo arrived at the paper March 2, 2020 and mere days later was down on Erie Shore Drive, talking to citizens and seeing firsthand the devastation the high water and heavy waves had been doing to the properties and the dike on which the road is perched.
"I honestly did not do much; that story was so good and full of emotion because the residents of Erie Shore Drive were generous with their time and trusted their local news reporter enough to open up about such a personal and stressful time," she said. "I hope it pays off in that now more people in our profession will read that story and hopefully start thinking more about the impacts of climate change and environmental degradation on their own communities. That was one of the stories I would always get compliments on, from people outside of C-K, who had no idea communities along the Great Lakes were in such a bad state. So I hope they know their stories and their words do have an impact on the public discourse."
Cocullo's headlines delivered some needed levity during the pandemic. Her winning submissions included "Ron Cat, the pawfect distraction," which delightfully drew readers into her story detailing how one resident's casual cat was a hit on the Internet, as the owner posted numerous pictures of the cat in various casual human-like poses.
Cocullo said she likes to have fun with her headline writing.
"Winning best headline writing was just a fun icing on the cake," she said.
Bruce Corcoran, general manager of The Voice, said Cocullo's determination to get all the facts shone through in her writing.
"If there was one more source to track down, Jenna would find it," he said. "She is very detail focused and cares about the people she connects with. You can certainly see that in her writing."
This year marked the first year the newspaper opted to send entries to the OCNA's annual awards.
Comments
comments