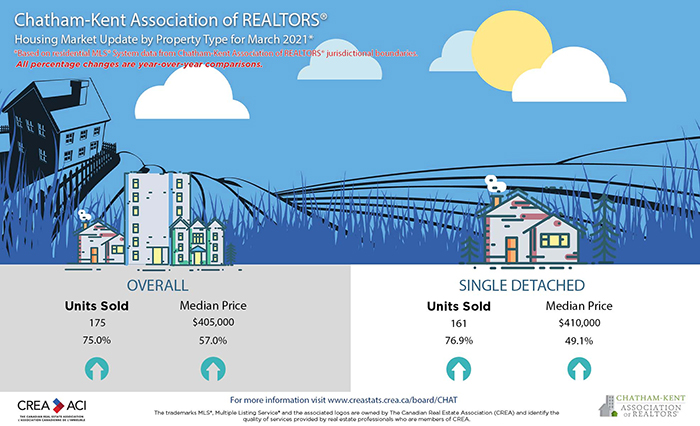 Home sales in Chatham-Kent set yet another record recently, as 175 units changed hands in March.
That's a new record for the third month of the year, and was up 75 per cent from March of 2020.
"March was another record-breaking month for our association," said Laura Tourangeau, president of the Chatham-Kent Association of Realtors (CKAR), in a media release.
For the first three months of 2021, 389 units were sold. That's up 37.5 per cent from the same period of a year ago.
Tourangeau said the number of sales in March wasn't the only record achieved.
"Resale home sales set both a new March and a new all-time monthly record this past month," she said.
Inventory, which has been all but depleted in recent months, saw some relief as well, as more homes came onto the market.
"We also saw an uptick in the number of resale properties newly listed in March, which helped to shore up inventory. An early spring coupled with a depleted overall inventory continues to put upward pressure on prices," Tourangeau said.
The average price of homes sold in March 2021 was a record $419,577, up 56.2 per cent from March 2020.
The more comprehensive year-to-date average price was $395,587, rising by 46.5 per cent from the first three months of 2020.
In terms of actual dollars spent on homes in C-K in March, CKAR figures show $73.4 million doled out in March of this year, up 173.4 per cent from the same month a year ago. This was a new record for the month of March and was also the largest dollar value of homes sold for any month in history.
As mentioned, inventory rebounded. The number of new listings was up by 83 per cent from March 2020. There were 194 new residential listings in March 2021. This was the largest number of new listings added in the month of March in more than five years.
Still, with 83 homes listed on the market at the end of March, that's the lowest number of homes for sale in the third month of the year for more than three decades.